December 12, 2021
Sarco goes Viral & the Backstory
Sarco goes Viral & the Backstory is a behind-the-scenes look at how the word Switzerland started trending globally on social media because of a story about the Sarco Assisted Suicide Capsule (as it has now become known).
NOTE – The February 2022 Update to the Peaceful Pill eHanbook features a new, revised chapter on the Sarco.
Background
Over the years, SwissInfo have covered a range of Exit stories.
Until this week, their most recent piece about Exit was a profile piece on Exit Director, Tom Curran titled: 'The Making of a Right-to-Die Campaigner' (19 Nov 2019).
On 16 August 2021, SwissInfo again made contact with Exit, and conducted a short interview by phone with Philip about the progress of Sarco project.
This interview would not be published until almost four months later on 11 December.
SwissInfo journalist, Clare O'Dea, would later tell Exit that she had no idea about why the interview did not run back in August.  Nor does Exit (of course).
But run the story did last week. Piquing the public imagination.
More than 1.5 million Google hits now appear for the search terms 'Sarco Switzerland'.
According to Swiss media, the word Switzerland began trending on social media in Russia due to the SwissInfo Sarco story.
Changing Headlines
While the initial headline for the SwissInfo article on Sarco was 'Sarco Suicide Capsule 'passes legal review' in Switzerland'.
This headline would later be changed to 'hopes to enter Switzerland'. Exit is not aware why the headline was changed or who instigated the change.
The new bit of news in the article, however, was that Exit had, indeed, commissioned a legal review concerning the possible use of Sarco in Switzerland, and the result of the report by Professor Daniel Hurlimann was that, as far as his learned opinion was concerned, there are no legal or regulatory impediments.
This report remains commercial in confidence and will not be made public by Exit.
However, Professor Hurlimann has been prepared to answer media questions about his opinion.
Going Viral

As with a lot things online, the truth can easily get lost.
In this week's stories on Sarco, the relatively innocent SwissInfo headline of  'passes legal review' morphed into something else entirely.
With hours, the Sarco story was reported as:
approved by authorities in Switzerland (Futurism)
'Dr Death' campaigner targets 30-second suicide pod at Switzerland (The Times)
approved for use in Switzerland (The Hill)
Switzerland approves assisted suicide capsule (Daily Beast)
Cleared for Use (Gizmodo)
Switzerland legalizes Suicide Machine (India Times).
Controversial suicide pod to be rolled out in Switzerland (Wales Online)
Company offers assisted suicide pod in Switzerland (USA Today)
Death Machine gets legal clearance (The Week)
Switzerland's assisted dying capsule machine approved for production (News.com.au)
Switzerland Legalises Sarco Pod (Manufactur3D)
Switzerland Approves a Device for 'Quick and Painless' Assisted Suicide (The Swaddle)
Suicide machine death without pain in 1 minute in Switzerland, legal approval for death (News Track Live)
Even the BBC got their headline confused.
An initial article by their tech reporter, Jane Wakefield, stated 'Maker of Suicide Pod Plans to Sell it in Switzerland'.
This was soon changed to 'Plans to Launch it in Switzerland'.
If the BBC can get it so wrong, it is surely not surprising that others followed suit.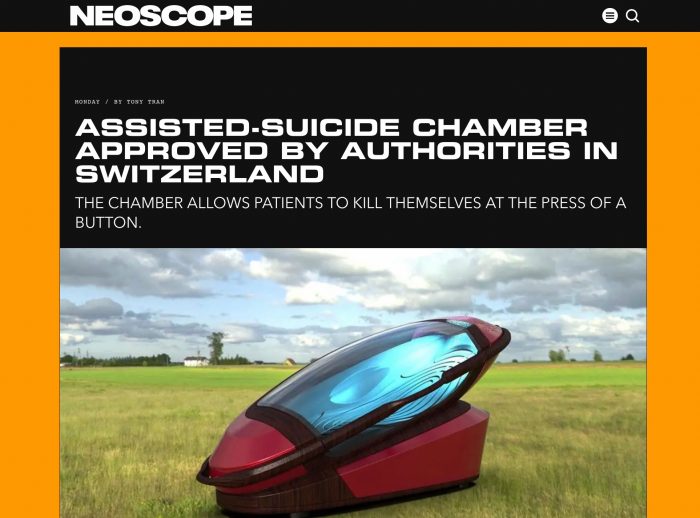 Of the more serious media, who took the time to listen and ask questions were Euronews and The Washington Post.
The latter headlined their coverage of Sarco as 'Sarco, a machine for suicide, will soon be tested in Switzerland' while Euronews wrote: 'The Sarco suicide pod aims to take assisted dying out of doctors' hands with AI and 3D printing'.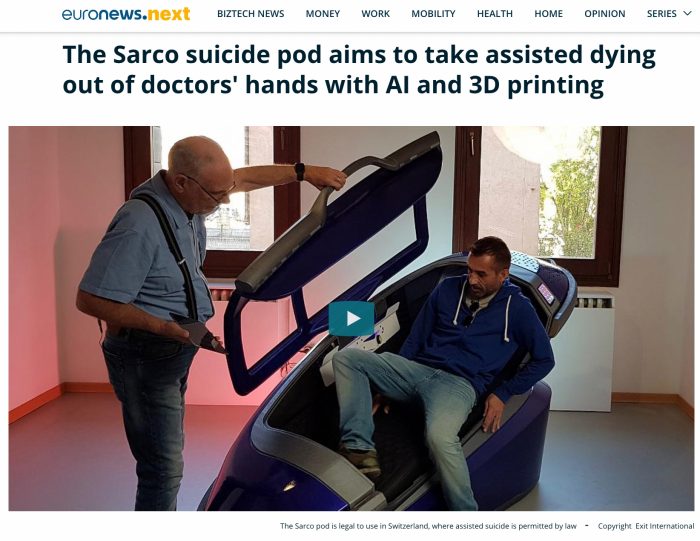 The Medical Framing of the Right to Die Debate
The confusion over the status quo of the possible use of Sarco in Switzerland is perhaps best summed up in the email correspondence between a journalist for The World program on American Public Radio and Exit.
The journalist wrote:
'My editors decided to hold off on this story until I can speak to someone on the Swiss medical review board. Do you have any contact information for the body that authorized the device?
I'm seeing an organization called Swiss Medical Board, though they are shutting down at the end of the month.
I also saw Swiss Medic, though on their website it says that medical devices do not undergo an official authorization procedure, so I'm a bit confused. Can you help point me in the right direction?'
Exit replied:
It is good you are holding off because there appears some fundamental misunderstandings. To clarify:
The point of taking Sarco to Switzerland is the first step in de-medicalising the dying process.
In the Netherlands you may be aware of the 'tired of life' debate and the bill currently before the Dutch parliament which aims to provide all elderly people of sound mind the right to ask for assistance to die. Professor David Goodall was a good example of this.
(A demecialised law also allows couples to go together, something not possible under a medical assisted dying law).
This repositions the good death as a universal human right instead of a medical privilege for the very sick.
Swiss law is universal in its construction, in contrast to Californian law for example, as it does not require a person to be terminally ill, or ill at all in order to get an assisted suicide.
Swiss law is based on the Swiss Criminal Code which states that anyone can help someone else to die as long as their motives are altruistic.
Case law has added 2 further requirements that the person must do the action themselves and they must have mental capacity.
The wide-ranging review that Exit commissioned has nothing to do with any Swiss medical board or doctors registration body.
In Swiss law, there is no requirement for doctors to be involved in the dying process.
The review was conducted by Professor Daniel Huerlimann, then of the Research Centre for Information Law at the University of St Gallen.
Funnily enough, one of the questions that was covered in the review was, is Sarco a medical device and, if yes, what type or regulations would it be subject to?
While Exit is not prepared to release the report publicly, the professor is prepared to be interviewed to answer questions.
I'm not sure if you have looked at sarco.design but this may help.
There is a fundamental shift underfoot from the medical aid in dying laws of your country towards the situation in Switzerland (and more recently in Germany and Austria as affirmed in 2020 constitutional court decisions).
There is significant information about the above on the Exit website, if you use the search box.
I hope this helps,
Kind regards
Exit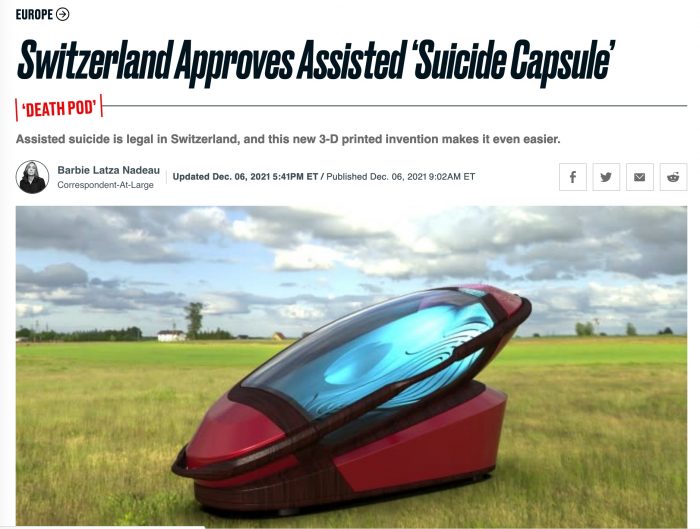 Confused & Confusing Assumptions
The automatic assumption of the journalist quoted above that the Sarco must have been approved by a medical body of some sort shows how the debate over assisted dying/ assisted suicide has been medicalised to the point where the Swiss legal model of de-medicalised assisted dying is simply unfathomable.
This is a pity because it means that advocates for those who fall outside the strict requirements of medical aid in dying laws in most, but not all countries, must undertake Assisted Dying Law 101 with journalists before discussion can be entered into.
Advocates such as Exit must explain that while there is voluntary euthanasia/ assisted dying for people who are seriously ill (and normally about to die within 6 months from their terminal illness), there are many more elderly people who want to know that they have the choice to go if their quality of life deteriorates (and they are not terminally ill).
Old age is rarely a lot of fun from a physical point of view.
The irreversible nature of the ageing process demands that a 'good death' be within reach of everyone who wants it as they reach the latter part of the lifecourse.
In the Netherlands, much less explanation is needed as the so-called 'completed life' debate is well advanced and currently before the Dutch parliament.
If the completed life bill is passed, all elderly Dutch people of sound mind will be able to request assistance to die, regardless of their state of health.
Illness will be only one of the criteria allowed by the state for a person to have a good death.
Old age will be the other criteria.
Conclusion
The end of life rights debate is not straight-forward, especially when a new technology such as Sarco is put into the mix of human rights, medical profession dominance, personal autonomy and so on.
This week was not the first time that the Sarco has been reported on.
When it was first unveiled in April 2018 at the Amsterdam Funeral Fair it attracted similar controversy.
No doubt the same will apply when it ultimately comes to be used, although at that time, no media will be present.
To stay abreast of developments about Sarco, please join the free Exit Email List.
Swiss Info is a subsidiary of the Swiss Broadcasting Corporation that operates a multi-language online news platform out of Zurich.