Dr Philip Nitschke
Exit International Director Dr Philip Nitschke, PhD MBBS BSc, is lead author of The Peaceful Pill Handbook – Essentials Edition.
In 1996, Philip became the first doctor in the world to provide voluntary euthanasia using Australia's Rights of the Terminally Ill Act of the Northern Territory and, as a result, four terminally ill patients used this law to end their suffering.
Consequently, the Australian Parliament overturned the law by way of a conscience vote in March 1997.
Philip gained his PhD in applied physics from Flinders University in 1972.  After that he graduated from Sydney University Medical School in 1988, however he retired from medicine in 1997 to work full-time on euthanasia issues.
Philip lives in the Netherlands.
Dicing with Dr Death – Have a Laugh!
Exit International Director Dr Philip Nitschke has had a varied professional career.
For example, in 2015 he launched his comedy career at the Edinburgh Fringe with a show called 'Dicing with Dr Death'.
Dicing with Dr Death received rave reviews of 4 stars from Edinburgh Three Weeks. Similarly, he receive a 5 stars review from TV Bomb.
After that, Philip would go on to perform an 'Aussie' version of his Dicing show that was subsquently retitled 'Practising without a License'.
This performance formed part of the 2016 Melbourne International Comedy Festival and took place in front of a full house at The Athenaeum Theatre.
In addition, a second show was performed in Darwin in the Northern Territory in August 2016.
Melbourne International Comedy Festival Review, 3 April 2016
"[Nitschke] presented his case with such measure, warm humour and intelligence that even his puns were excusable."
Jim Schrembi, Herald Sun
[caption id="attachment_5758" align="aligncenter" width="453"]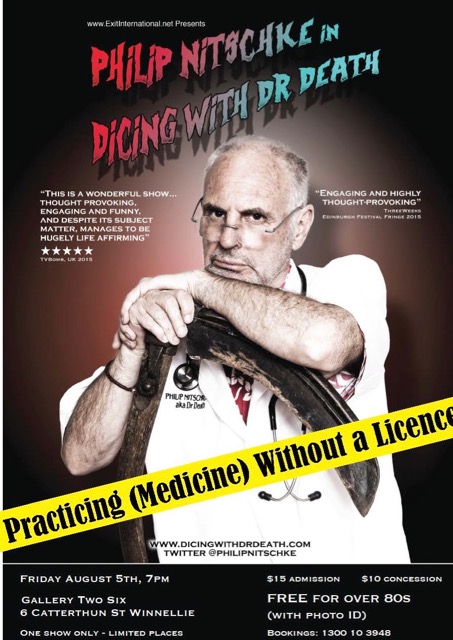 Dicing with Dr Death in Darwin[/caption]
Awards
Exit International Director Dr Philip Nitschke is the recipient of many awards including:
Rainier Foundation Humanitarian Award, 1996
Northern Territorian of the Year, 1997
Australian Humanist of the Year, 1998
Charles Southwell Award (NZ Association of Rationalists & Humanists), 2001
In conclusion, Philip is an nine-time nominee for Australian of the Year (2005, 2006, 2008, 2009, 2010, 2011, 2012, 2013, 2014) and in addition he is twice a state finalist (2005 & 2006).