The Peaceful Pill Handbook Free Preview allows those who have never delved into this subject matter before to have a read of the book before they make a purchase.
That is to say, it is totally understandable that some folk may feel anxious. Similarly, you may not know which edition is best for you.
You can also compare editions before purchase.
We suggest, therefore, that new potential readers take a brief browse using the Peaceful Pill Handbook Free Preview before they take things any further.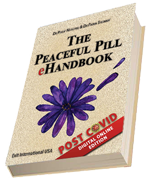 Handbook Page of Contents
Preface
Introduction
Dying & the Law
The Peaceful Pill
The Exit 'Reliability-Peacefulness' Test
Internet Security & Privacy
Physiology of a Peaceful Death
Premedication & Potentiation
Hypoxic Death & the Exit Bag
The R2D DeBreather
Carbon Monoxide
Lethal Inorganic Salts
Detergent Death
Introduction to Drugs
Vomiting and Drugs
Drug Options – The Opioids
Drug Options – Propoxyphene
Drug Options – Amytriptyline
Drug Options – Chloroquine
Drug Options – Insulin
Drug Options – The US Lethal Mixtures
Drug Options – Nembutal
Availability of Nembutal
Online Scammers
Testing & Storage of Nembutal
Administration of Nembutal
The Peaceful Pill Project
The Korean Method
Covid-19 – what to expect?
Pegasos Swiss Association
Final Considerations
Please note – You must be aged 50 years or over/ or seriously ill to subscribe to this publication.
Photo ID may be requested.