Peaceful Pill Blog
March 29, 2020
All About Chloroquine
As readers may have heard, Hydroxy-chloroquine and Chloroquine Phosphate (both anti-malarial drugs) have both been widely reported as possible treatments for COVID. This stems from their anti-viral properties.
Although their efficacy in fighting COVID is far from certain (despite what Donald Trump says), their role as a reliable end of life drug is beyond dispute.
Exit first included a Chapter about Chloroquine in the Peaceful Pill eHandbook back in 2015.
The Exit RPA test gives the drug an end of life rating of 72% with a 10/10 rating for availability.
The topic will be revisited in the April 2020 update to the Peaceful Pill eHandbook.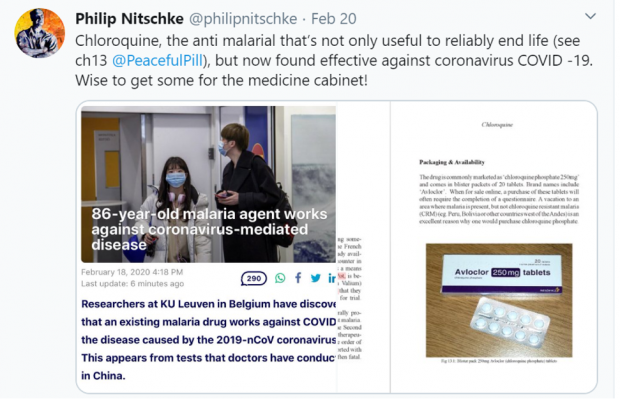 However, the attention Chloroquine has received because of the COVID epidemic has had two effects:
It has become impossible to source. Pharmaceutical-grade tablets of Avloclor (Chloroquine) was previously available over the counter, at least in the UK. However, Avloclor is now impossible to purchase.
The flood of publicity has drawn Exit's attention to the use (and availability) of Chloroquine as an aquarium or fish tank additive to fight disease.
In the post-COVID world (we hope one exists), the use of Chloroquine in home fish tanks will make it exceptionally easy to obtain.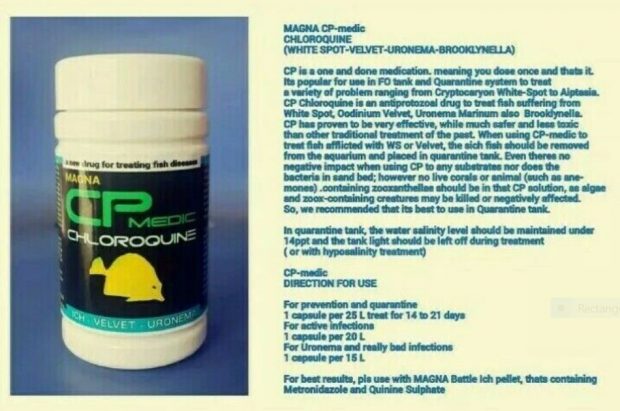 While it is impossible to predict what will happen with Chloroquine supplies as the COVID crisis deepens, if it is shown to be ineffective against the virus it will – presumably – return to pharmacies to be once again marketed as an antimalarial, and to pet store shelves as an effective treatment for 'white spot' in fish.
In the meantime, those who did not acquire this drug will have little opportunity to do so. Another end of life casualty of COVID-19!
* Note, Exit understands that the R2D Debreather has still not started shipping because of the disruption caused by COVID to its production line in China.
January 13, 2020
Wall St Journal: My 100 Love Letters to My Dying Father
Two days before Christmas, my father told me he was thinking about shooting himself. It was the winter of 2014, and we were alone in his guesthouse in the Blue Ridge Mountains. I remember the cold electricity of the moment. I sat down on the coffee table and stared at him, blood ringing in my ears.
My father's cancer had progressed rapidly since I'd seen him in September. At 74, he was still tall and handsome—his eyes bright blue, like chips of sky, his hair white and bushy as an arctic fox. But he'd lost at least 30 pounds. His profile had grown sharp. His gestures panicky. Nausea and back pain forced him to spend much of his time in bed.
I knew my father had been considering taking his own life. He had advanced prostate cancer. It was too late for treatment. I knew he didn't want to live once the pain of his illness became unbearable. I understood this. But the idea of the gun was new. And it horrified me. If he shot himself, my father would die alone. Someone in our family would have to find him.
Back in April, when my father first sat my sisters and me down to discuss his diagnosis, he'd seemed remarkably sanguine about dying. He felt he'd had a long, fulfilling life. He said he looked forward to seeing what lay on the other side. But he was clear that he did not want to end his life in the hospital. Or in hospice care. The thought of lingering for weeks in a morphine-induced haze appalled him: "An expensive way of prolonging the inevitable."
'It's my life, sweetheart,' he said. 'This seems like the best option.'
Instead, my father wanted to stay home with his partner in Virginia and keep doing what he loved—hiking and caring for his property, spending time with friends and family—for as long as it felt meaningful. Then he wanted to die as quickly and painlessly as possible. At the time, he'd asked my sisters and me for our thoughts on the matter. We'd asked my father not to do anything violent, and he agreed, saying he hoped to take some pills. We all wanted to be there with him when he passed. My father readily accepted this idea too. "It'll be like a Bon Voyage party," he said, working to keep his voice upbeat while my sisters and I wept.
Now the story had changed.
"The problem with the pills you get from the internet is there's no guarantee," my father said. He'd learned by this point that assisted suicide for terminally ill patients—known as "death with dignity"—is illegal in Virginia. And his investigations into various lethal drugs revealed horror stories about wrong dosages and unreliable contents, painful, drawn-out demises. A lifelong marksman, my father had decided a gun was his best option: "If I shoot myself, I know I won't miss."
As his daughter, it was the violence I struggled with most. As we spoke, I kept thinking, I want you to die feeling loved and peaceful. But when I begged him to reconsider, he refused. His eyes went flat. A bullish, macho cloud seemed to envelop him. "It's my life, sweetheart," he said. "This seems like the best option."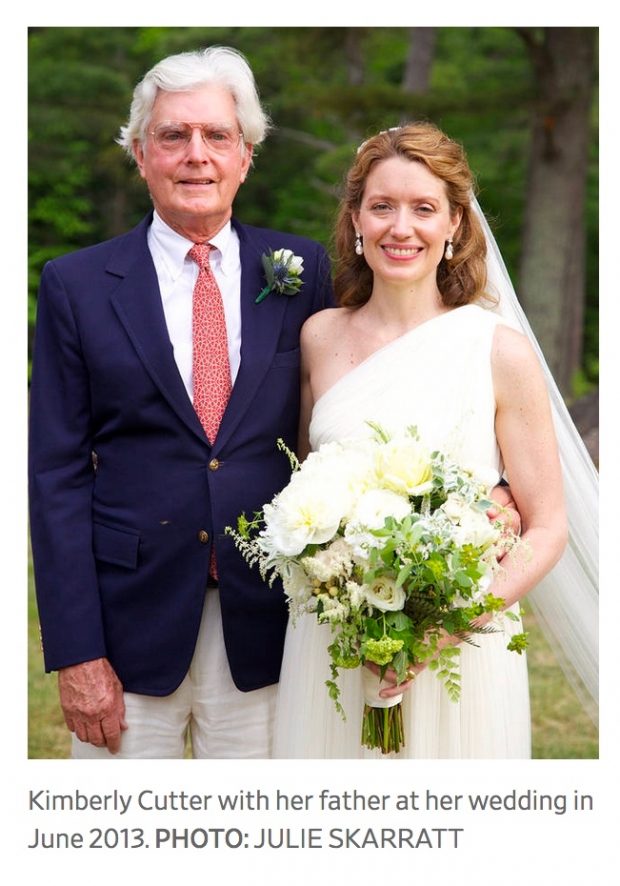 My dad and I never had an easy relationship. Growing up, I was bookish and uncoordinated. My dad was the opposite: a graceful extrovert with a passion for competition and bit of a mean streak. When I was 6, he and my mother divorced. I struggled with the way his life changed: the parade of girlfriends and wives and philosophies. The way he criticized me.
Later, there were years of not talking. But through it all, my father and I loved each other—at times helplessly. Just when I'd decide never to speak to him again, I'd be reminded of some magical time we'd had together, body surfing in the ocean, fishing in the Everglades or catching lobsters in Key West. In recent years, with the help of some excellent therapy—and a few well-placed apologies—we'd gotten better at putting aside our differences.
But I couldn't accept my father's threat to shoot himself. I thought about violence and the fear that always lies beneath it. How violence, in essence, is a twisted cry for help.
At some point, it occurred to me that what I needed was a way to make my father feel loved. If I could make him feel loved enough, maybe he would not forget my sisters and me in his lowest moments and do what his darkest impulses urged. Late that night, I had an idea. It was childishly simple. Corny, really. I would start sending him daily love notes. I sent the first email the next morning. The subject line read: "Reasons Why I Love You."
Reason #1 was: "Because you taught me the awesomeness of thunderstorms." There was nothing my dad loved more than a big cracker-boomer Florida thunderstorm, and nothing more fun than running around the house with him, pulling the windows closed as the sky turned dark and the wind blew in, his eyes lighted up like sparklers as he yelled, "Oh boy, you guys! Storm's a comin'!"
The daily act of pulling up a reason I loved him and sending it to him seemed to restore him in some essential way.
As soon as I sent it, I knew I was onto something. So, for the next 99 days, I continued, sending my father a different reason why I loved him each morning. They ranged from the ridiculous to the sublime—from memories of snorkeling with him through a school of angelfish in Jupiter, to his incomparable Daffy Duck imitation: "Suffering Succotash!" From the day he'd taught my sister and me to ride our Huffy Pink Thunder bikes, to the way he'd howled with pride when I sold my first novel.
I remembered how he'd smelled of Irish Spring soap and how, on particularly beautiful mornings in my childhood, he'd swing me up into his arms and crow, "What a day, eh, sweetheart?" Most of all, I remembered my father saying that experience was what mattered most in life—that we are here to experience the world, not acquire it. Or hide from it.
I could tell the emails were working; I could hear it in my father's voice when I spoke to him on the phone; could feel it in the grateful emails he sent back in response. The daily act of pulling up a reason I loved him and sending it to him seemed to restore him in some essential way.
The thing I didn't expect was what this ritual would do to me. It turns out that you can't send someone a reason you love them every day for 100 days without falling in love all over again. Each memory I sent opened a new door in my heart—made me forget the darker parts of our relationship and connected me with the playful, generous, laughing man he was at his best. It sounds simple, and it was, I suppose. But it did not feel simple. It felt miraculous.
My father never again discussed with me his plans for how or when he would die. But when we Skyped on Christmas that year, he'd grown frightfully thin. In early January, his partner emailed to say he'd lost the use of his left leg. Soon his other leg gave out, and he could not walk at all. I believe for him that was the signal.
The next day, his partner came home and found him in his bed. His cat was curled up beside him. He was not breathing. His heart had stopped. He was gone.
A few days later, in Virginia, I found a printout of an email exchange in my father's desk, detailing his purchase of a barbiturate from a company in China. With it was a small clear envelope bearing traces of white powder. The printout was tucked into a copy of "The Peaceful Pill Handbook," beside an article in which a woman with terminal cancer described how the book helped her to plan her own death with dignity.
Inside, a page was turned down to a description of the barbiturate. In red pen, my father had underlined the words: Fast. Painless. Peaceful.
July 15, 2019
Professor Avril Henry & that Infamous Police Welfare Check
It was never supposed to happen like this. A rational suicide was planned, friends (lots of friends) were told along with extended family. She thought she had her affairs in order. No one, but no one, could have predicted what happened next.
At around 9pm on Friday 15 April 2016, Professor Avril Henry had her front door smashed in by the local Exeter Police, who were followed closely by a GP, a psychiatrist and a government social worker. The 'crisis team' forcibly entered Avril's house for a 'welfare check'.
They said they had been informed by Interpol that Avril had imported Nembutal from Mexico. And they had heard she was planning to end her life. Their job, they said, was to snatch the drug from her and decide if she should be sectioned compulsorily as a psychiatric patient. To keep her from dying.
Avril's role in this drama? An elderly woman, living alone, in a small Devon village who, with a rapidly deteriorating quality of life, had decided the trip to Switzerland was too arduous. And besides why should she?
Avril wanted to die at home and she wanted to be buried in her orchard.
Being the highly organised person that she was, Avril took matters into her own hands. She got the Peaceful Pill eHandbook and she imported the same drug that she would have been given in Switzerland, sodium pentobarbital. That should have been the end of the matter but it wasn't. A victimless crime to be sure.
When the police were first asked by the media what they were doing in smashing Avril's front door down, without even ringing her front bell first, they denied they had ever been at her house.
Only on formal questioning by Avril's lawyer was the police visit report provided. The report proved the police had attended. It proved Avril was not lying. And yes there had been a forced entry.
While Avril and her friend Emma said the police took the drugs away with them, the police report states the drugs could not be found. So what is going on?
[Remember – by law, in general, you do not need to let Police into your home if they do not have a warrant. Nor do you need to tell them anything, other than your name & address]
One of the lessons from the circumstances surrounding Professor Henry's death is the vexed question of who should be told if you are planning a rational suicide.
In her own words, Avril says she would 'talk the leg off a table'. She told anyone and everyone of her plans. Far from being ashamed of what she was planning, Avril thought the law an ass. And she thought it cruel. She wanted to make a last stand against it.
However, in telling everyone, including her internet provider company, Avril left herself open to intervention. When she told her ISP that she planned to die that night and would they please disconnect her phone and internet that day, they called for emergency help. This prompted her local GP surgery to call her with a view to dispatching immediate help to her home. Suicide prevention run amok!
As Avril said in a final email to Dr Philip Nitschke, 'I think I had better skip lunch and get on with it'. And so she did.
Only, and to Exit's total surprise, Avril Henry had not handed over her full stash of Nembutal when demanded by the Police several nights prior. She had kept some aside. This other stash is what she would take to end her life.
Apart from the needless and senseless terrorising of Avril Henry, the element of remaining concern was the involvement of Interpol in tracing the Nembutal received by Professor Henry. In the same week as Avril Henry experienced the police raid, another UK Exit Member was also the subject of a police raid on her home. Again, the alleged tip-off came from Interpol via the Manchester Police.
More recently (July 2019) another Exit member in Australia has reported a welfare check by the Victorian Police. This elderly gent said he used Bitcoins and Protonmail to import his Nembutal. He refused the Police entry to his home. In doing so he has, presumably, retained his Nembutal bottles.
As is the way with covert police operations, Exit can only guess as to how things work but what is clear is that a Nembutal supplier or a courier company has insecure information.  It is important to remember that while it may be lawful to purchase Nembutal over the counter in various Sth American countries, its importation back to one's home country is almost always illegal.
So while you cannot blame the authorities for attempting to track down this illegal trade, it is a pity indeed that the same efforts are not made to prevent the many online scammers from robbing the elderly and vulnerable of their money.
It  is the online Nembutal scammers who are the real criminals. These are the people Interpol and the Police should be out catching, rather than harassing the elderly and seriously ill who are simply trying to secure a basic end of life choice in the face of a wholly inadequate legal situation.
The experience of Professor Avril Henry is now the subject of a major, feature documentary by Vice Studios. Titled Time to Die, the film will have an advance screening in Rio Cinemas in London at 6.30pm on Wednesday 17 July 2019.
Tickets & Details at Eventbrite
June 19, 2019
Australia gets 2nd Euthanasia Law 24 Years After 1st
A quarter of a Century after the Northern Territory's ground-breaking ROTI – Rights of the Terminally Ill Act, and the State of Victoria has finally enacted its own voluntary euthanasia law.
Touted as the world's most conservative law for the terminally ill, the new Voluntary Assisted Dying Act of Victoria is expected to help around 150 people a year.
However to qualify for the world's toughest law – a max security law with 68 safeguards, you need to be almost dead.
For example, Mt Martha former firefighter Troy Thornton who was slowly becoming paralysed with MSA (multiple system atrophy) was deemed ineligible.
Troy's problem is that he would die with MSA rather than of it.
Troy's only option was Switzerland.
The laws of all countries should do better.
With the incoming law generating all manner of questions, Exit has undertaken the first known analysis of the much-lauded 'safeguards' of the VAD Act. In doing so we have identified well in excess of 100 'safeguards'.
If you think the VAD might be something that would be useful for you at some point in the future, below are the safeguards that have been put in place to help protect you.
It is a matter of conjecture if the safeguards are help or hinder.
Exit is on the side of the latter.
Person Eligibility – Basic Requirements
Person has decision-making capacity
 Person can understand the information relevant to the decision
Person can retain that information
Person must be able to use or weigh that information as part of the process of making the decision
Person can communicate the decision
Approval Process
A person may access voluntary assisted dying if—
the person has made a first request
the person has been assessed as eligible by co-ordinating medical practitioner for the person
by a consulting medical practitioner for the person
the person has made a written declaration;
the person has made a final request to the co-ordinating medical practitioner
the person has appointed a contact person
the co-ordinating medical practitioner has certified in a final review form
the person is the subject of a voluntary assisted dying permit
Rules for Doctors  – General
A registered health practitioner may not initiate discussion with that person that is in substance about voluntary assisted dying
A registered health practitioner must not suggest voluntary assisted dying to that person
Eligibility
Person must be aged 18 years or more
Person must be an Australian citizen or permanent resident
Person must ordinarily resident in Victoria
At the time of making a first request, have been ordinarily resident in Victoria for at least 12 months
Person must be diagnosed with an incurable disease, illness or medical condition
Person must be diagnosed with a disease, illness or medical condition that is advanced, progressive and will cause death
Person must be diagnosed with a disease, illness or medical condition that is expected to cause death within weeks or months, not exceeding 6 months
Person must be diagnosed with a disease, illness or medical condition that is causing suffering to the person that cannot be relieved in a manner that the person considers tolerable
Person is not eligible for access to VAD only because the person is diagnosed with a mental illness
Person is not eligible for access to voluntary assisted dying only because the person has a disability
Person must be diagnosed with a neurodegenerative disease, illness or medical condition  that is expected to cause death within weeks or months, not exceeding 12 months
Doctor Regulations
Doctor must hold a fellowship with a specialist medical college
Doctor must be a vocationally registered general practitioner
Doctor must have practised as a registered medical practitioner for at least 5 years after completing a fellowship
Doctor must have relevant expertise and experience in the disease, illness or medical condition expected to cause the death of the person
Person Requirements
Person may make a first request
Request must be clear and unambiguous
Request made personally
Person may decide at any time not to continue
Process ends if a person decides not to continue
Within 7 days after receiving a first request from a person, the registered medical practitioner – accepts the first reques
Within 7 days after receiving a first request from a person, the registered medical practitioner – refuses the first request
If first request accepted, practitioner must record his/ her acceptance in the person's medical record
If first request accepted, practitioner must record patient's request in the person's medical record
The co-ordinating medical practitioner must not commence the first assessment unless the practitioner has completed approved assessment training
If co-ordinating medical practitioner is unable to determine whether the person has decision-making capacity they must refer the person to a registered health practitioner who has appropriate skills and training
Specialists
If the co-ordinating medical practitioner is unable to determine whether the person's disease, illness or medical condition, co-ordinating medical practitioner must refer the person to a specialist registered medical practitioner who has appropriate skills and training in that disease
Specialist must determine status
Specialist must provide clinical report
Neurological Specialists
If the co-ordinating medical practitioner is able to determine that the person has a disease, illness or medical condition that is neurodegenerative, and will cause death within 12 months, co-ordinating medical practitioner must refer the person to a specialist registered medical practitioner who has appropriate skills and training in that particular disease, illness or medical condition
Specialist must determine status
Specialist must provide a clinical report
Coordinator practitioner must adopt specialist's report
Coordinating Practitioner
If coordinating practitioner assesses person as eligible they must inform patient of: person's diagnosis and prognosis
If coordinating practitioner assesses person as eligible they must inform person of: treatment options and likely outcomes
If coordinating practitioner assesses person as eligible they must inform patient of: palliative care option and likely outcomes
If coordinating practitioner assesses person as eligible they must inform patient of: potential risks of taking a poison or  controlled substance or a drug of dependence
If coordinating practitioner assesses person as eligible they must inform patient of: expected outcome of taking a poison or controlled substance or a drug of dependence
If coordinating practitioner assesses person as eligible they must with patient's consent, inform the family of all relevant clinical guidelines
If coordinating practitioner assesses person as eligible they must with patient's consent, inform the family of plan in respect of the self-administration of a voluntary assisted dying substance
Coordinating practitioner must assess person for meets all the eligibility criteria
Coordinating practitioner must assess person understands the information
Coordinating practitioner must assess person acting voluntarily and without coercion
Coordinating practitioner must assess person's request is enduring
If deemed eligible by coordinating practitioner, he / she must refer the person to another registered medical practitioner for a consulting assessment
Consulting medical practitioner must not commence a consulting assessment unless the practitioner has completed approved assessment training
Written Declarations
Declaration must be witnessed by an eligible person over 18 (not a beneficiary of the will/ owner of the hospice where person is being treated or providing health care)
Final request
Can only make final request if made written declaration
Final request must be to coordinating practitioner by person personally
Final request must be made at least 9 days after 1st request
Final request must be made at least one day after deemed eligible by practitioners
Contact Person
Person must appoint a contact person
Must use the right form
Person must appoint a contact person in presence of a witness
Witness must sign form
Final Review
Coordinating practitioner must undertake a final review
Must review all forms
Complete a final review form
Certify the request and assessment process has been completed as required by this Act
Co-ordinating medical practitioner must give the VAD Review Board a copy of the completed final review form, and copies of all other forms within 7 days after completing the final review form
Coordinating practitioner must certify in final review form that request and assessment process has been completed as required by this Act
Coordinating practitioner can then apply for VAD permit
Self-administration permit
A self-administration permit – enables coordinating practitioner to prescribe and supply the voluntary assisted dying substance that the person can self-administer or obtain, possess, store, use
Coordinating practitioner must be satisfied person is physically incapable of the self-administration or digestion
Coordinating practitioner must be satisfied person has decision-making capacity
Coordinating practitioner must be satisfied person's request is enduring
Practitioner administration permit
A practitioner administration permit – allows coordinating practitioner to prescribe and supply to the person a sufficient dose
possess, use, and administer in the presence of a witness to the person if person is physically incapable of the self-administration or digestion
 A practitioner administration permit must be on the correct form
A practitioner administration permit must identify the person
A practitioner administration permit be accompanied by final review form
A practitioner administration permit be accompanied by all other forms
A practitioner administration permit be accompanied by statement of eligibility
A practitioner administration permit specify the poison or controlled substance or the drug of dependence
A practitioner administration permit specify the contact person in charge of returning unused portions to the chemist
Person must have made administration request personally
Person must have made administration request in front of witness
Person must have decision making capacity
Person's request for VAD is enduring
Person must understand that substance is to be administered immediately after the request
Requirements of Pharmacist
Pharmacist must destroy returned portion as soon as practicable
Pharmacist must record and notify VAD Review Board of disposal within 7 days
Harsh penalties for misuse, trafficking etc of drug offences
Role of Secretary (Head of the Department of Health and Human Services)
VAD Permits are determined by Secretary
Secretary may refuse if not satisfied with request and assessment process
VAD permit must be on prescribed form
Storage of VAD substance
VAD substance must be stored in a locked box
Package/ container must have warning label
Package/ container label must state the dangers of self-administering substance
Package/ container label must state that the substance must be stored in a locked box
Package/ container label must state that any unused or substance must be returned to pharmacist at the dispensing pharmacy
Harsh Criminal Penalties for Non Compliance
Penalty of life imprisonment if another person administers what is provided under a self-administration permit
Penalty of 5 years imprisonment if another person induces a person to request VAD
Penalty of 5 years imprisonment if another person induces a person to self-administer substance
Penalty of 5 years imprisonment if any forms are falsified:

a first assessment report form
a consulting assessment report form
a written declaration
a contact person appointment form
a final review form
a VAD substance dispensing form
a VAD substance disposal form
a co-ordinating medical practitioner administration form

Penalty of 12 months imprisonment if contact person fails to return unused drugs to pharmacy within 15 days after death
60 penalty points for failure to provide Board with paperwork
Criminal liability for officers of body corporate who fail in due diligence
VAD Review Board – with wide-ranging powers of oversight and compliance