Internet Nembutal Scams

Online Nembutal Scams are a growing problem for elderly people seeking to buy Nembutal over the Internet.
For many years, Exit has kept a watch on online Nembutal Scams websites; for instance their email addresses, social media, phone numbers and so on.
Most importantly, we do this in order to warn people against losing their money to these unscrupulous operators.
Consequently, in 2020 Exit established a new website called Nembutal Scams that can be found at NembutalScams.com
While The Peaceful Pill eHandbook will continue to publish scammers' details, for the full list of scammers, please see Exit's new Stop Nembutal Scams website at: www.Nembutalscams.com
In conclusion, tips on how to pick Online Nembutal Scams can be found in the 'Scammers' Chapter in The Peaceful Pill eHandbook.
Below is a partial list of scams to give an indication of how scam websites may look, and how they operate.
B
Barbiturate Pharmacy <https://getbarbiturates.com/>
Berlin Pharmacy <Berlinpharmacy@dr.com>
Bob <bob1152@protonmail.com>
Buy Nembutal On-Line <http://www.buynembutal.online>
C
Cameroon 1. El-Hazzi Jal – Saeed <jalsaeedelhajjis@yahoo.com>
Cameroon 2. "Derek" <nembutalmeciation@gmail.com> Tel + 273 676 1644 79 & + 1 6267 250 821
Christopher Titmuss – <christophertitmuss@gmail.com>
D
Dr Hardy/ Peaceful Pill Directory – see Shawn Hardy – see <https://Peacefulpilldirectory.com>
E
Euthanasia International <https://www.euthanint.org/>
Euthanint < info@euthanint.org>
F
Final Exit <finalexit.net>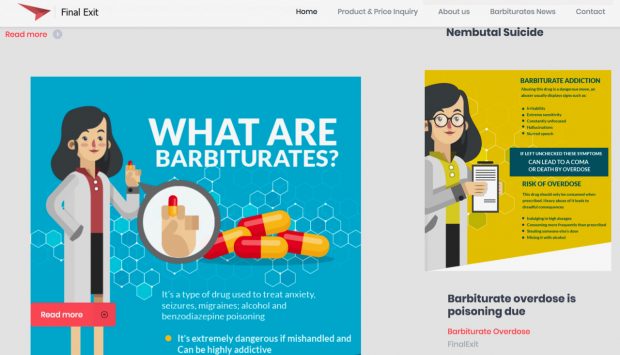 G
Glomedstore <glomedstore@gmail.com>
Glorious End <https://gloriousend.com/buying-nembutal-online/>
H
Hardy 2121
I
Info Nembutal <info.nembutalpentobarbital@gmail.com>
J
Jao Felix – <joaofelixpph@protonmail.ch>
Jonas <euthanasiaexitgroup@gmail.com>
Jones from Peaceful Pill Directory <info@peacefulpilldirectory.com>
O
http://onlinepentobarbital.com/tag/nembutal-sodium-suppliers-eu/
P
http://www.peacefulpilldirectory.com & joaofelixpph@protonmail.ch
www.peacefullpill.com (note the incorrect spelling of peaceful with 2 'l's not one)
peterwangpph@protonmail.com
Hello,
I have Nembutal powder sold as reagent grade "Sodium Pentobarbital", CAS No. 57-33-0.
It is the original authentic powder used by Dignitas in Switzerland .
The attachment is the picture of the powder and it is the lethal dose which is 15 grams.
This 15gram bottle costs $600 and it is excluding delivery fee.
The Nembutal is a white crystalline powder with test results showing a purity of 99%. It readily absorbs moisture and is very soluble in water. The Nembutal is very bitter and as such you need to drink anti-vomit medicine or anti-emetics.
I have the anti-emetic Metoclopramide 10mg and it is free.  The anti-emetic will be taken as stipulated either for two days prior to the chosen night of exit. Alternatively it can be taken as a single 'stat dose" around 40 minutes before the Nembutal is to be taken.
As for shipping, I use FedEx, UPS, TNT and it takes a maximum of 3 working days.
For payment, I receive payment through Bitcoin , Money Gram and Western Union. For Bitcoin go to www.coinbase.com create account and load it with your credit card. You will need to submit your ID for verification.
Please confirm you order of 15grams Nembutal powder which costs $600 .
Once you confirm your order, I will send you the different shipping options.
Awaiting your reply.
Peter.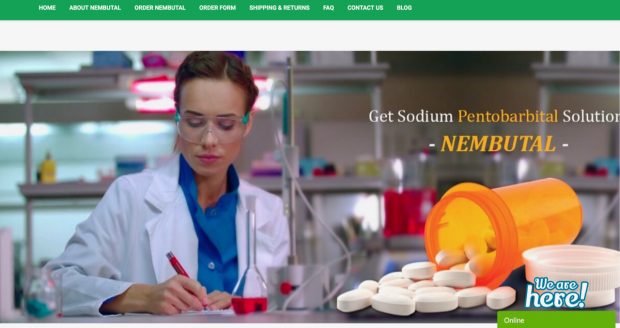 If you have been scammed or want to report a scam website or other social media presence, please visit www.nembutalscams.com