Update Webinars
In 2022, Philip Nitschke, author of the Peaceful Pill eHandbook – Essentials Edition, is hosting an occasional series of online Webinars.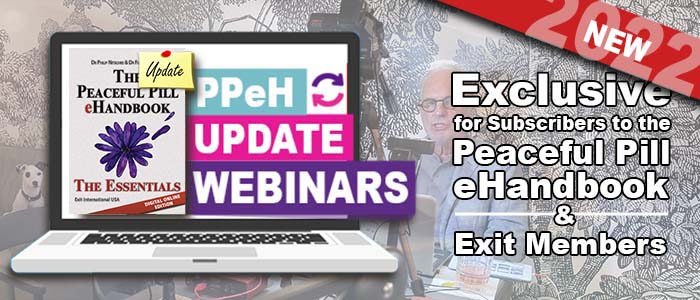 Substantial PPeH Essentials Book Updates
 are made 6+ times per year
are made because the end of life choices field can be fast-changing & there are always new developments
the Essentials was published 30 June 2022 & has been updated monthly ever since
Online Webinars
lead subscribers through the content of each Update
answer broad questions regarding the subject material & allow for audience Q&A
Who can Attend
All Exit Members (free)
Current Subscribers to the Peaceful Pill eHandbook – Essentials ($40 for series)
Registration is required for each Update Webinar at this link
Registration is restricted to over 50s of sound mind. Photo ID may be required.
EXIT MEMBERS

Update Webinars are free for Exit Members, regardless of whether or not they subscribe to the Peaceful Pill eHandbook – Essentials.
REGISTER FOR THE UPCOMING WEBINAR
PPEH SUBSCRIBERS

Existing Peaceful Pill eHandbook – Essentials subscribers can subscribe to the Update Webinars ($40 for 2022 webinar series).
SUBSCRIBE TO 2022 WEBINARS
NEW SUBSCRIBERS BUNDLE
New Peaceful Pill eHandbook subscribers can (bundle) subscribe to PPeH $95 + $30 (for 2022 Webinar subscription).
BUY NOW
Update Webinar Recordings
Recordings of the Update Webinars may be made available to subscribers at the completion of the series in 2022.