Update Webinars
In 2022, Philip Nitschke, author of the Peaceful Pill eHandbook – Essentials Edition, hosted an occasional series of online Webinars.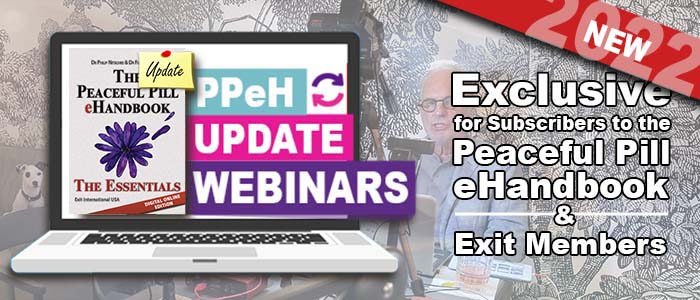 Substantial PPeH Essentials Book Updates
are made 6+ times per year
are made because the end of life choices field can be fast-changing & there are always new developments
the Essentials was first published mid 2022 & has been updated regularly ever since
Online Webinars
lead subscribers through the content of each Update
answer broad questions regarding the subject material & allow for audience Q&A
EXIT MEMBERS

Update Webinars are free for Exit Members, regardless of whether or not they subscribe to the Peaceful Pill eHandbook – Essentials.
Update Webinar Recordings
Recordings of the Update Webinars may be made available to subscribers at the completion of the series in 2022.