About Fiona
Sociologist & Lawyer Fiona Stewart, PhD MPolLaw LLB (Hons) BA, is the co-author with Philip of Going to Switzerland: how to plan your final exit and the Peaceful Pill Handbook series.
Prior to collaborating with Dr Philip Nitschke, Fiona had a career background in academia, online start-ups, the media and consulting (including to the World Health Organisation).
Fiona has published widely in the mainstream media, academic journals and edited collections.
Of her time working in newspaper journalism, she says that her opinions were always getting her into trouble and it was reassuring to find that one could make a living from being just that, 'opinionated'.
Since that time, it is Fiona's ability to write in a way in that engages the reader that makes Exit's books the success that they are today.
Australian by birth, Fiona is a long-term resident of the Netherlands.
She has recently become the proud owner of two new dogs: a crazy Jack Russell called Katrina and a Coton de Tulear called Lulu. A lifelong dog lover, she adores them both.
Dr Fiona Stewart – Author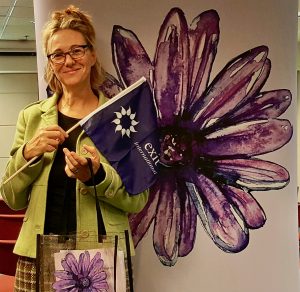 Dr Fiona Stewart, Melbourne 2016