Peaceful Pill Handbook Updates
February 15, 2021
Feb 2021 Update – The USA Lethal Mixtures
The Feb 2021 Update – The USA Lethal Mixtures in the Peaceful Pill Handbook  follows the developments on which drugs work and how, and in which combinations. This work has been undertaken because the foremost assisted dying drug – Nembutal – has a price tag that puts it out of reach of the ordinary person.…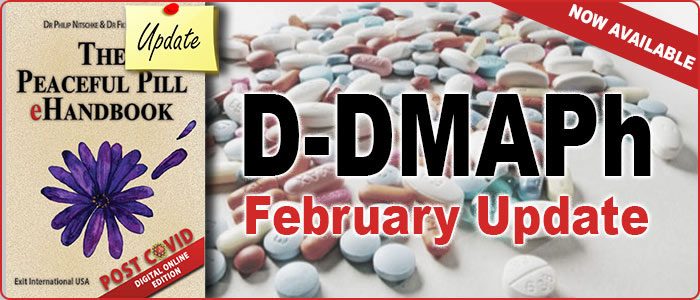 ---
January 17, 2021
Jan 2021 Update – Drugs Premedication & Potentiation
The Jan 2021 Update – Drugs Premedication & Potentiation update is essential reading if one has drugs that are old, of dubious quality or in insufficient quantities.
To die peacefully and reliably is harder than it sounds.
Having decided on the method of choice one then needs to obtain the necessary drugs or equipment. This …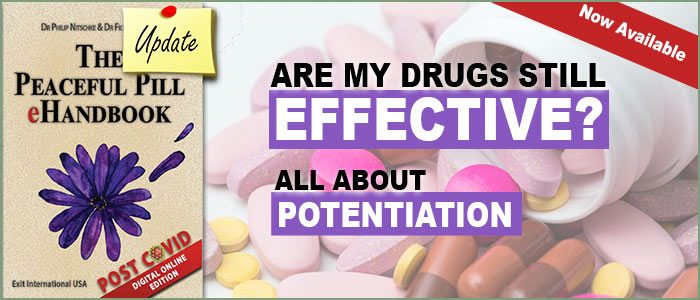 ---
November 2, 2020
Nov 2020 Update on Nitrogen, Nitrite & Nembutal
The Nov 2020 Update on Nitrogen, Nitrite & Nembutal to the Peaceful Pill eHandbook is now available.
Previous 2020 Updates include:
The R2D Debreather
The Korean Collar
Updates on Peru & Mexico
The COVID-19 Death
USA Drug Mixtures (D-DMA)
The Lethal Salts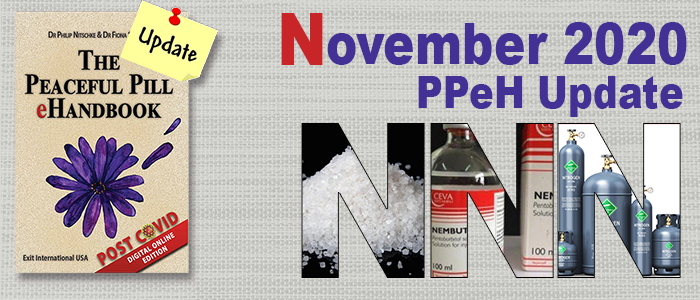 …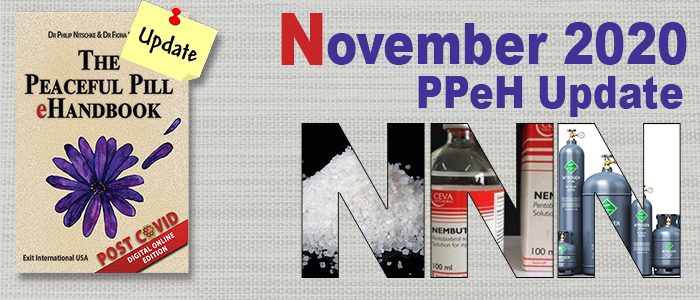 ---
October 4, 2020
October 2020 Update – Salts & the Dark Web
The October 2020 Update – Salts & the Dark Web is now available for reading in the online Peaceful Pill eHandbook.
Update No 1 – featured new information on the potentiation of the Salts & a warning of changes on the Dark Web.
Update No 2 – is on page 332 (Eng. edition) and concerns …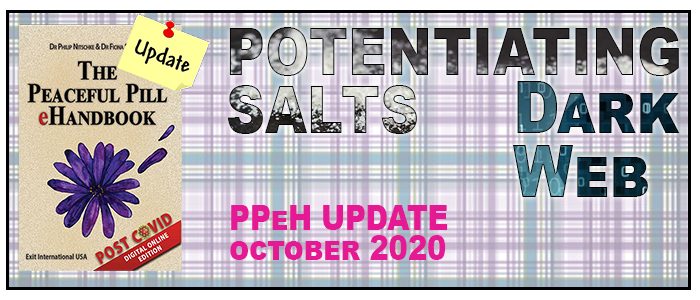 ---
September 1, 2020
Sept 2020 PPeH Update: New US Lethal Mixtures
The September Update contains two brand new Chapters
1. The Physiology of a Good Death
This new Chapter explains the way in which death is brought about by various methods from a physiological point of view & includes discussion of:
Hypoxic Hypoxia (eg. Sarco)
Hypemic Hypoxia (eg. Nitrite)
Ischemic Hypoxia (eg. Chloroquine)
Histotoxic Hypoxia (eg.
…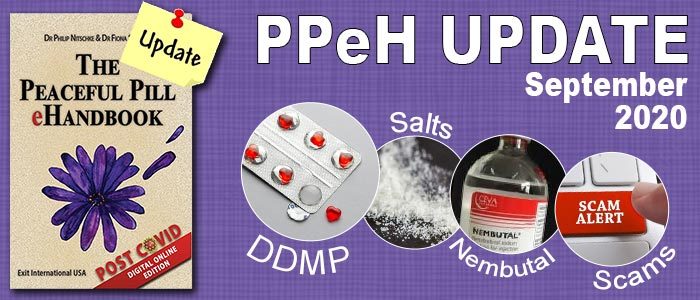 ---
June 3, 2020
June 2020 PPeH Update: How much Chloroquine do they need?
With all the hype coming out of the White House these days, its appropriate to turn our attention back to Chloroquine as an end of life strategy.
Far from curing COVID-19, the more sensible question concerns the amount of the drug that a person wishing to end their own life should consume.
In the Peaceful …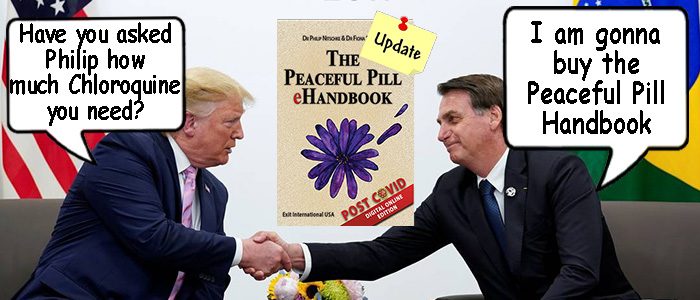 ---
April 16, 2020
COVID-19 Update – All you need to know
In 2020, Covid-19 has changed our collective reality in ways we never imagined, and can never roll back.
The high death rate from COVID-19 among the elderly raises important questions that we all want answered in the context of assisted suicide, voluntary euthanasia, MAID and VADs:
Why is a COVID-19 death NOT the old person's
…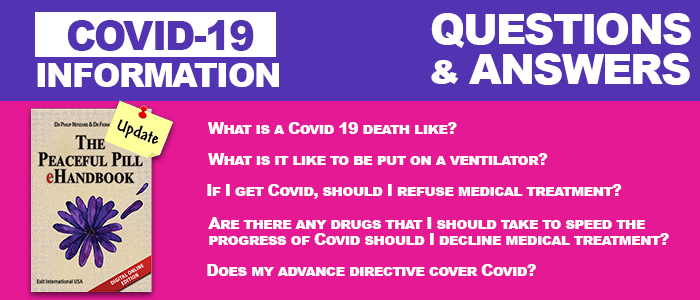 ---
March 15, 2020
Korean Collar Update
A Good Spy Story?
Everybody loves a good spy story. Nowhere is the story better than with South Korean spy 'Black Venus' aka Park Chae-seo.
In a 2018 interview, Black Venus stated that unlike North Korean spies, he was never issued with cyanide pills. Instead he knew how to kill himself by applying …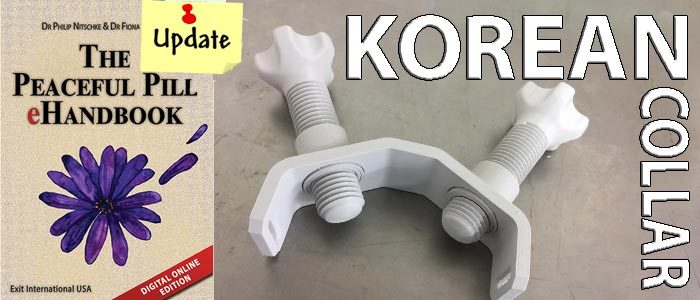 ---
January 15, 2020
R2D DeBreather Update
The first update to the Peaceful Pill eHandbook for 2020 focuses on the new R2D DeBreather device.
After its launch at the Toronto meeting of NuTech in October 2017, where it shared the NuTech Prize of USD5000 for R&D breakthrough, the DeBreather has undergone further refinement and is now available. Details exclusive to the January …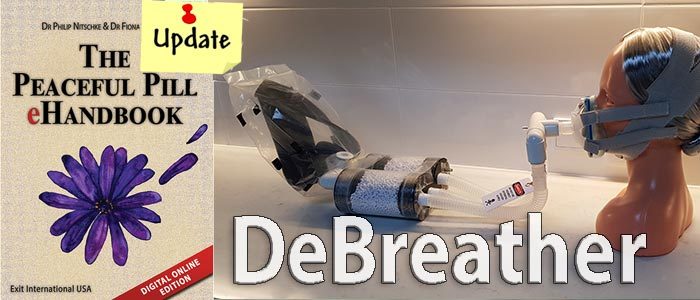 ---
December 4, 2019
Spot the Scam December 2019 Update – Now Available
This month's Peaceful Pill eHandbook focuses on Online Nembutal Scams.
We tell you about about the increasingly sophisticated scammer tactics designed to lure you in:
Scam copies of the Peaceful Pill eHandbook (yes you heard right!)
Scam Exit Peaceful Pill Forums sites (yes true again)
Scam Websites
Scam Emails
Scam Social Media
Scam couriers, insurance
…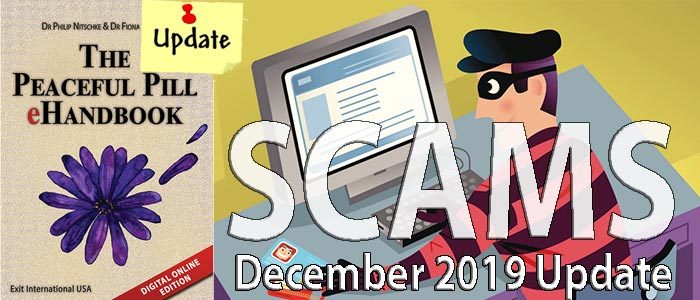 ---