General Article
October 12, 2021
October 2021 Peaceful Pill eHandbook Update
In the October update to the Peaceful Pill eHanbook, we present:
Rewritten chapters on the Swiss Options & Insulin
Update on USA Mixture Drugs
The Launch of the Exit Application Assistance Program (for folk who need help applying to any of the Swiss services)
Updated information about Nembutal & what to beware of …
…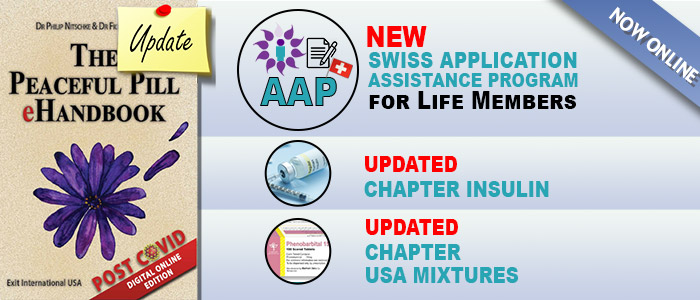 ---
September 19, 2021
Sandy Morris Challenges California Law
Sandy Morris Challenges California Law – But How?
Sandy Morris challenges California law because when found out she would die of ALS, she resolved that she would bravely, peacefully and legally end her own life, surrounded by her beloved family and views of the Sierra Nevada.
California's End of Life Option Act requires that people …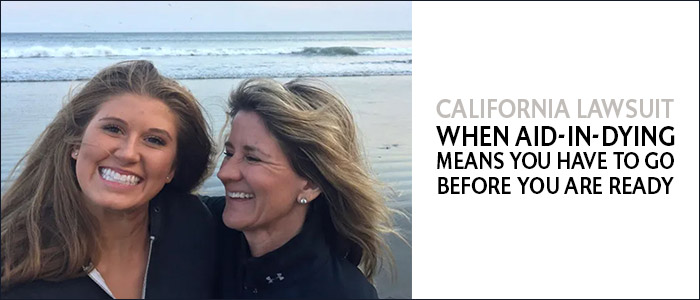 ---
September 15, 2021
Sarco Opens in New Exhibition
Sarco Opens in New Exhibition
Sarco is now on display in a new exhibition at the Museum for Sepulchral Culture in Kassel Germany until February 2022.
The Museum for Sepulchral Culture is the only independent institution committed exclusively to cultural and scientific standards that deals with the entire spectrum of the so-called 'Last Things', and …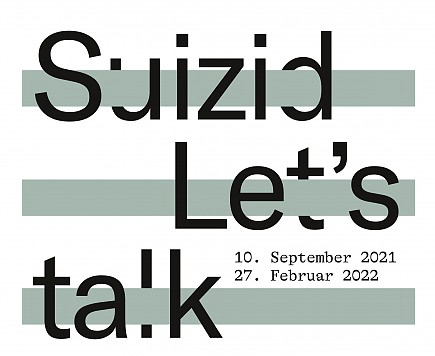 ---
August 30, 2021
Ensuring Northern Territory Rights Bill 2021
The below is the submission of Exit International to the Australian Senate inquiry into the current ban on the Northern Territory making laws on assisted suicide/ voluntary euthanasia, 30 August 2021.
Committee Secretary
Senate Legal and Constitutional Affairs Committee
PO Box 6100
Parliament House
Canberra ACT 2600
29 August 2021
Dear Colleagues
Please accept the …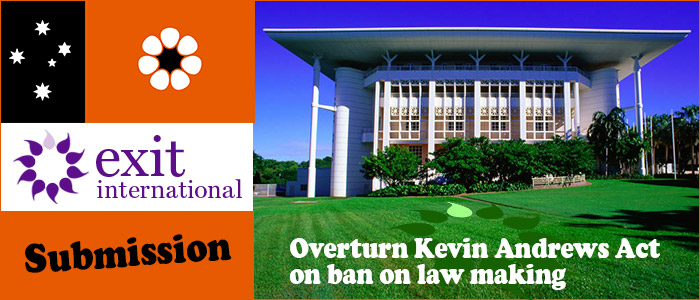 ---
August 29, 2021
Italy Gets >750,000 signatures for Referendum
Italy Gets >750,000 signatures for Referendum which means that a referendum regarding the repeal of the punishment for assistance in dying of a consenting individual will take place in that country.
In 2013 the Italian right to die group, Association Luca Coscioni presented a legislative proposal regarding the legalisation of euthanasia.
This proposal was supported …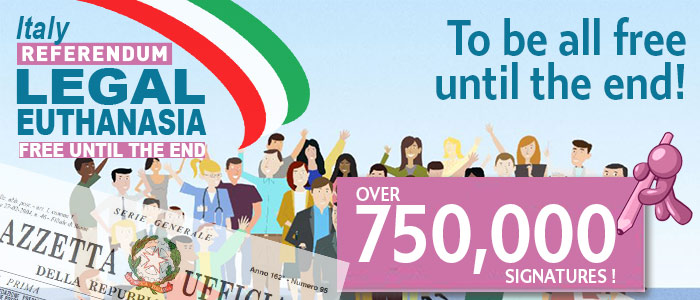 ---
August 15, 2021
Maltese Young People more Accepting of Euthanasia
The Malta Independent on Sunday, Shona Berger
Is it surprising that Maltese young people more accepting of euthanasia in Europe's most Catholic country?
This issue is noted in a recent article in the Malta Independent on Sunday.
Before Malta considers passing legislation on euthanasia, there needs to be an improvement in palliative care, Professor of Family Medicine and Bioethics Pierre Mallia …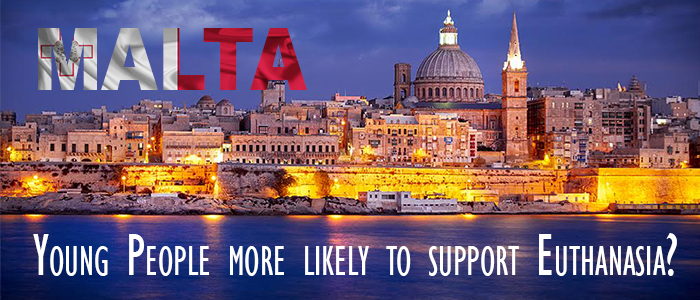 ---
August 15, 2021
New Exit Podcast
The Azide Wars have come about with the advent in the Netherlands of Middel X as an end of life method.
As a country where voluntary euthanasia has long been legal, there has been a groundswell of discontentment amongst older people who resent having to ask doctors for help to die.
Addressing this souring mood …
---
August 2, 2021
August 2021 Peaceful Pill eHandbook Update
The August 2021 update to the Peaceful Pill eHandbook publishes original data on over 30 documented deaths from 'Middel X Powder'.
Middel X is the substance that has become a household name in the Netherlands due to its promotion by activist group, CLW – Cooperation Last Will.
Exit is grateful to both CLW and Dutch …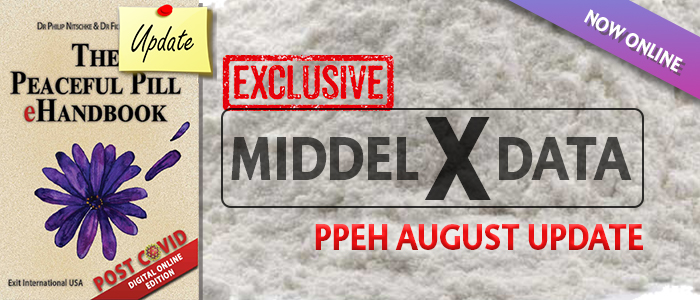 ---
August 1, 2021
The Azide Wars
The Backstory
The first shots in The Azide Wars were fired in March 2019 when the Dutch Medical Association Journal NTvG published several articles attacking what was described in the editorial as 'the ideology of suicide"'
In a lead article 'The Rise and Fall of Agent X', journalist (and co-author with Boudewijm Chabot of Uitweg)…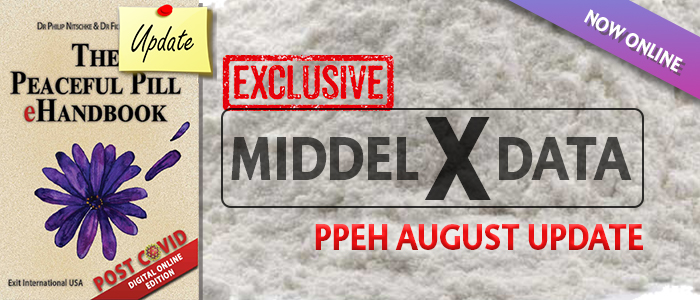 ---
July 25, 2021
Suicide Related Materials Offences Act
Exit International has long been the subject of political persecution by multiple governments in Australia. Nowhere is this more obvious than with the Suicide Related Materials Offences Act (Australia) amendment to the Australian Criminal Code.
In short, this infamous 2006 Australian law prevents the use of the phone, email, fax and the Internet to …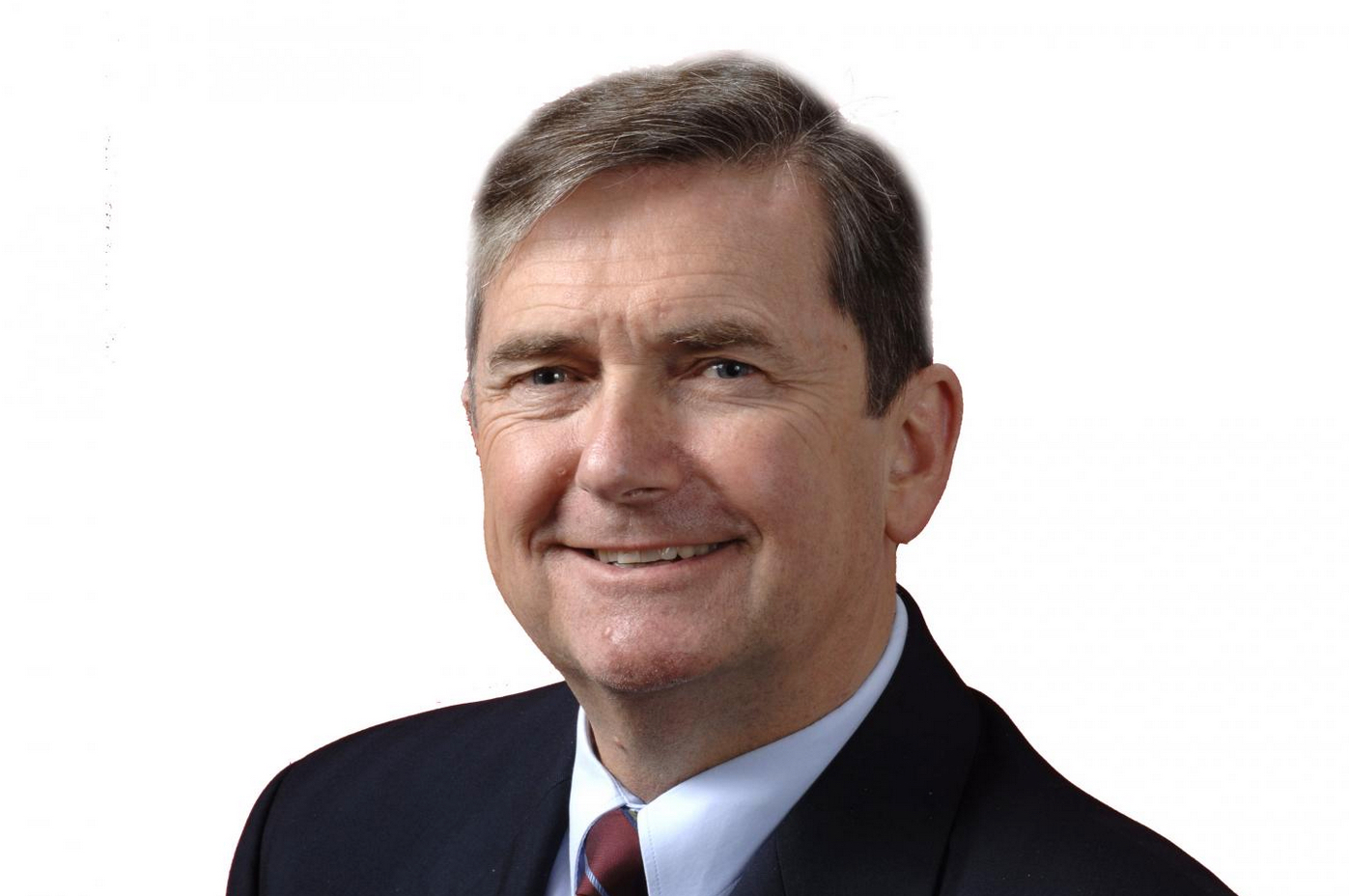 ---