April 4, 2017
Assisted dying group create app for testing purity of euthanasia drugs
i News (The Independent), Paul Gallagher
NOTE – The breaking news of the SCiO Sensor is the April 2017 Update to The Online Peaceful Pill eHandbook.
An assisted dying advocacy group has developed an app to test the purity of euthanasia drugs purchased online, i can reveal.
A growing number of elderly people are buying drugs, such as Nembutal, from abroad but are concerned about their quality, the director of Exit International said. Philip Nitschke, the controversial Australian medic known as "Dr Death", said he was able to create the app using a new Israeli portable infra-red spectrometer, the SCiO, which is being used to detect counterfeit anti-malarials.
"An epidemic of suicide is unlikely, but there will be a happier, and quite likely, a longer lived population as these changes take place." Philip Nitschke, Director, Exit International Like a TV remote, the device uses infrared light and connects to a smartphone to determine whether medications are genuine.
Dr Nitschke said it will allow a quick, non-destructive screen of the powdered form of Nembutal, or sodium pentobarbital, which has been described as the "premier" euthanasia drug. "There is huge interest in drug purity testing, and this new device now makes this simple and possible for the first time," Dr Nitschke told i.
"The significance for the elderly is huge, and we think shows yet again how technology is outrunning any attempt by legislation to control access to the means for a peaceful death."
App launched this week Exit is sending out the information to its members this week, alongside details of Bryan Lask, a former Emeritus Professor of Psychiatry at St George's University of London, who ended his life in 2015 using imported drugs from Mexico.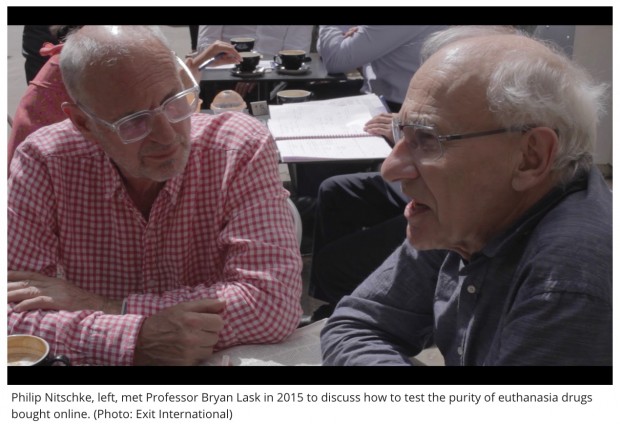 Professor Lask was a pioneer child and adolescent psychiatrist with an international reputation for his work on eating disorders, especially those occurring in children and adolescents. He died in October 2015, aged 74. Dr Nitschke said: "Bryan asked me to test with him, so he could feel reassured. I met him in July 2015. He wanted to talk about getting the Peaceful Pill Handbook [Exit's euthanasia 'guide'] and ordering lethal drugs. He succeeded.
"The testing took place at his place in September that year. The drugs tested out OK, but there were difficulties with the only purity tests available then. Nevertheless, he decided to go ahead. My last contact was on 30 September and he died a week later. He did have a peaceful death."
Dr Nitschke said as the 'Baby Boom' generation enter their twilight years, they are increasingly seeking control over their end when and how they will die. "Their growing appetite for the premier euthanasia drug Nembutal, or sodium pentobarbital, has meant that the Internet has become a central focus in their endeavours.
"While the purchase and importation of Nembutal into most Western nations remains illegal, manufacturing chemical companies in China have ensured a steady online supply for those willing to break laws of importation and possession of this controlled drug."
For over a decade, acquiring Nembutal online has been relatively straightforward, and many elderly people are prepared to break the law, often for the first time, to ensure they have more control over their death.
"Along with this growth, however, has come a plethora of scam Internet sites seeking to trap and cheat seniors all over the world," Dr Nitschke said.
"Given that the testing of illegally obtained drugs is difficult, even for party drugs, commercial laboratories have understandably been hesitant to test Nembutal for fear that they may be accused of 'assisting a suicide'."
While self-testing provides one answer, home-based methods are difficult for the elderly to master, with results that are often hard to interpret, Dr Nitschke said. Exit International is developing an extension of the app to be used with liquid forms of veterinary Nembutal, that is commonly available over-the-counter in countries including Mexico, Peru and Boliva.
Speaking from The Netherlands, where Exit is based, Dr Nitschke said he was excited about the potential of technological innovation to change the face or the right to die debate.
"As reliable and effective end of life drugs become easier for the elderly to access, attempts to use legislation to control a person's right to die become ineffective and increasingly irrelevant.
"We are fast moving towards a world where technological change will ensure that an elective peaceful death will become a real option for all those who wish to die." "While the purchase and importation of Nembutal into most Western nations remains illegal, manufacturing chemical companies in China have ensured a steady online supply for those willing to break laws of importation and possession of this controlled drug."
The rollout of the process will be in a series of pop-up testing events expected to be trialed by the end of this month. "My feeling is that the stable door is open and the horse is gone," Dr Nitschke said.
"Chances of authorities regaining control [of accessing end of life drugs] through legislative initiatives are remote. And, at the same time, it's becoming clearer that access to these drugs commonly extends, rather than shortens, life.
"The whole debate here in the Netherlands is over the right of the elderly to have access to these drugs – for whatever reason. To me, this is a parliament reflecting the reality of these changes.
"An epidemic of suicide is unlikely, but there will be a happier, and quite likely, a longer lived population as these changes take place. It's depressing that in the UK, and in my country, we can't even get to the point off making these drugs available to anyone, even those moments away from death."