September 8, 2019
BrExit London Workshop – 2-5pm, Sun 27 October 2019
Exit will be holding its final Pre-Brexit workshop on Sunday 27 October 2019 at Dragon Hall (Holborn).
Depending on the outcome of Brexit, this may be the final workshop for sometime in London.
Workshop Details are on the Exit Website Workshops page.
Venue: Dragon Hall, 17 Stukeley St, WC2B 5LT (Holborn)
Date: Sunday 27 October, 2019
Time: 2 – 5pm
Bookings: Bookings are open online
Admission: Exit workshops are free to Exit Members (at fee for public (£65) on approval).
Inquiries: 07883 509 765
Need 2 Know:
The first 30 minutes will be a free, open public meeting. After the tea break a closed, members-only workshop will be held.
Afternoon tea will be served.
Exit workshops are reserved for those aged 50 years and over, of sound mind.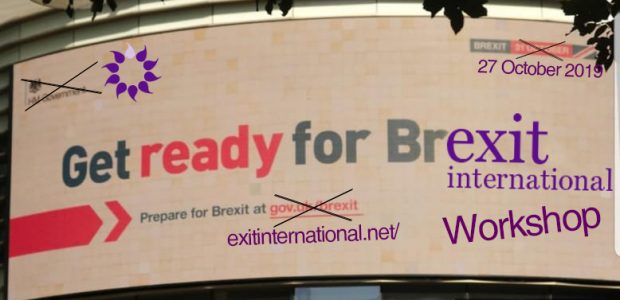 Format
Public Meeting Topics include:
History of assisted suicide / voluntary euthanasia around the world
From Australia in 1996 to the Netherlands in 2019
Exit Inventions: Deliverance Machine  & the new 'Sarco'
Exit's New 'de-medicalised' Swiss Service
Legal status quo – what you can & can't do
Workshop topics are based upon The Peaceful Pill eHandbook:
Suicide, voluntary assisted dying (VAD) & the law
Exit's Reliability – Peacefulness Test – how to critically analyze different options
The Lethal Salts – Aussie pig poison & the Dutch experiment
Hypoxic death & Nitrogen, legals
All about drugs, myths, overdoses, prescription drugs, pain drugs
The old fashioned barbiturates: sources, scams, testing, storage, legals
Exit's new Switzerland service (not yet publicly launched)
Recent Developments: Sarco euthanasia machine
Living wills, death certificates, autopsies, wills & testamentary capacity, family counseling …