Exit Snippet Workshops
Exit Snippet Workshops were established in 2021 by Exit International as a new monthly series of online workshops with Dr Philip Nitschke.

Called 'Snippets', these workshops above all are exclusive for members of Exit International and subscribers to the Peaceful Pill eHandbook.
What is an Exit Snippet?
Mini, Online Workshop
Different topic each month
Topics are based on updates to The Peaceful Pill eHandbook
Inc. Audience Q&A
Need to Know?
70-minutes duration, including participant Q&A
Topics are responsive to new developments & changing circumstances

5 May 2021 Topic: 'Morphine & the Opiods'
Time Zones & Days?
All Snippets held on 1st Wednesday (In Australia/ NZ, the time is Thursday morning because of the time difference)
21.00 BST – 1st Wednesday each month (Europe) – British Summer Time
22.00 – CEST – Amsterdam (summer time)
13.00 PST – 1st Wednesday each month (Nth America – west coast)
16.00 EST – 1st Wednesday each month (Nth America – east coast)
06.00 AEST – 1st Thursday each month (Australia – Sydney/Melbourne)
In conclusion, more information about Exit International's Snippets can be found on the Exit International Website.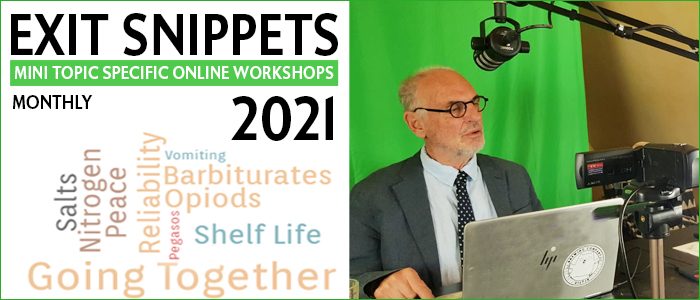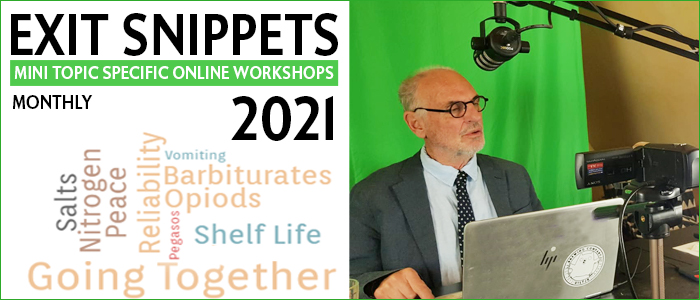 Cost
Live Session – Free for Exit Members
PPeH Subscribers – US$22.50 per live Snippet
Recordings
Admission
If you do not subscribe to the PPeH, and you would like to attend a Snippet, you will need to become a member of Exit International.
You can apply to join Exit International here
Upon acceptance, you will be able to pick and choose your Snippets at no further cost.
Snippet participants must be > 50 years & of sound mind.
People who are seriously ill are welcome to attend, regardless of age.
Face 2 Face Workshops
Face-2-face Exit Workshops will return post COVID-19.