April 22, 2022
The 10 strangest artefacts in Australian museums – sorted
The Guardian, Charmaine Manuel
A few months after the pandemic was declared and the cultural life of our cities came to a halt, museum curators around the world started posting their collections on social media in a #curatorbattle started by the Yorkshire Museum. The weekly challenges unearthed #sassiestobject, #fantasticfakes, #mysteryobjects and even the #bestmuseumbum.
But it was really #creepiestobject that got the internet talking and sharing spooky dolls, animal penises and supernatural objects.
I was reminded of this challenge as I set out to find and rank the strangest objects in Australia's museum collections. A few of these are drawn from Tasmania's Museum of Old and New Art (Mona), the poster child for the eccentric, but many are hidden gems from universities or smaller institutions. Museums are places of wonder, but these objects range from whimsical to just plain creepy. Sorry for the nightmares.
10. Cane toad diorama, Queensland Museum
This quirky object was created by Kevin Ladynski, a taxidermist who created multiple dioramas of cane toads in various anthropomorphised settings. In this particular diorama, cane toads are set up like convicts doing manual labour; in others, they're shown in a boxing match, at nightclub or at the scene of a car crash.
Ladynski appeared in the 2010 documentary Cane Toads: The Conquest, which examines the pest species, one of our greatest environmental blunders, and its resulting impact on northern Australia. A planned travelling show of his toad exhibits didn't quite get off the ground, but his eclectic exhibits have tickled viewers over the years.
A Pteronura brasiliensis, otherwise known as Melbourne Museum's 'Sad Otter'. Photograph: Jon Augier/Museums Victoria
9. Sad Otter, Museums Victoria
Sad Otter is no longer on display, but he was once part of the Wild installation at Melbourne Museum – a dizzying display of more than 1,000 taxidermied animals that greeted visitors to the museum. The specimen is a giant otter that was bought by the museum in 1884.
His mournful face launched a bunch of memes, tattoos and plush toys when he was featured on the Bad Taxidermy website in 2012. Why is he so sad? According to the experts at Melbourne Museum, the people who stuffed him may have never seen a live otter before.
A vampire slaying kit from the Victoria Police Museum – probably not 19th century, though. Photograph: Rebecca Davies
8. Vampire slaying kit, Victoria Police Museum
This object came into police possession after a drug raid in 2004. The kit contains a wooden stake, a bottle for holy water, crucifix, pistol, and silver pistol balls with crosses on them. The lettering on the box is the Ephesia Grammata, a mantra that, when pronounced correctly, supposedly offered protection against dark forces.
It supposedly dates to the 19th century, but Dr Patrick Spedding, a scholar of gothic literature at Monash University, is sceptical: "If it's 19th century, I'll eat my head" were his approximate words. He believes it is most likely a later novelty item, inspired by films like Bram Stoker's Dracula (1992) and Sleepy Hollow (1999).
Despite this, kits like these appear to be highly valued. Similar boxes have been found around the world, with Sotheby's selling one for more than US$25,000.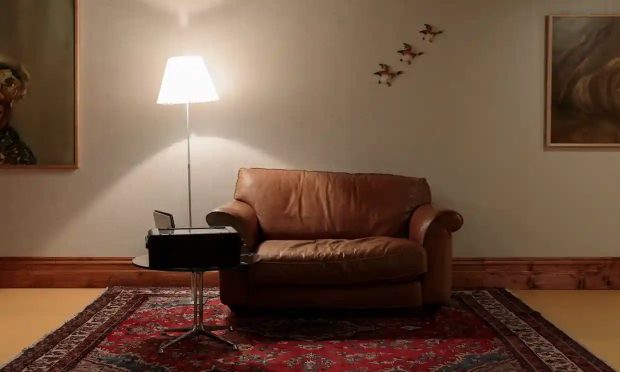 My Beautiful Chair, by Greg Taylor and Philip Nitschke, poignantly simulates the process of euthanasia. Photograph: Mona/Jesse Hunniford
7. My Beautiful Chair, Mona, Tasmania
More poignant than strange, this haunting installation simulates the process of euthanasia in a cosy living room setting and is known for bringing viewers to tears.
It was created by sculptor Greg Taylor and Dr Philip Nitschke, a euthanasia advocate and inventor of "the Deliverance Machine", which was legal in the Northern Territory between 1995 and 1997.
Nitschke's Deliverance Machine was connected to a computer that asked a series of questions to confirm a person's wish to die before administering a lethal shot.
The art installation is activated when someone sits on the leather chair and it asks participants the exact same questions as the Deliverance Machine.
If consent is given, it describes the body's physiological response until the very end when the screen displays: "You are now dead."
Read the full article at The Guardian Website