March 1, 2021
Exit Dying with Dignity Snippets
Exit Dying with Dignity Snippets is a new program of online workshops that was launched by Exit International in February 2021.
Mini, Online Workshops hosted by Dr Philip Nitschke
Snippets are exclusively for Exit Members & PPeH Subscribers
Different topic each month
Topics are based on updates to The Peaceful Pill eHandbook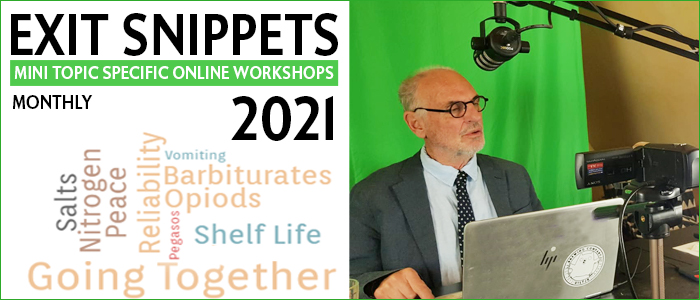 Need to Know
70 minutes duration, including participant Q&A
Topics will be responsive to new developments & changing circumstances

7 April 21 Topic: Drug Premedication & Potentiation

Time Zones & Days
All Snippets held on 1st Wednesday (In Australia/ NZ, the time is Thursday morning because of the time difference)
21.00 BST – 1st Wednesday each month (British Summer Time)
13.00 PST – 1st Wednesday each month (Nth America – west coast)
16.00 EST – 1st Wednesday each month (Nth America – east coast)
6am AEST – 1st Thursday each month (Australia – Sydney/Melbourne)
Cost & Access

Live Session – Free for Exit Members
PPeH Subscribers attend live session  – US$22.50 per Snippet
Recordings
Note – if you do not subscribe to the PPeH, and you would like to attend a Snippet, you will need to have been welcomed as a member of Exit International.
You can apply to join Exit International. Upon acceptance you will be able to pick and choose your Snippets at no further cost.
Note – Participants must be > 50 years & of sound mind. People who are seriously ill are welcome to attend regardless of age.