September 26, 2020
Exit Dying with Dignity Snippets
Exit Dying with Dignity Snippets
Exit Dying with Dignity Snippets are a new program of Exit International launched in February 2021.
Mini, online workshops – 70 minutes duration including participant Q&A
Private Events: exclusively for Exit Members & PPeH Subscribers
Focused each month on a different topic
Topics will be announced each month to enable the Snippets to be up-to-date and responsive to current, changing circumstances

March 2021 Topic: The Gases

Free for Exit Members
PPeH Subscribers attend US$22.50 per Snippet
Held 1st Wednesday every month @ 21.00 GMT (8am, Thursday Oz time)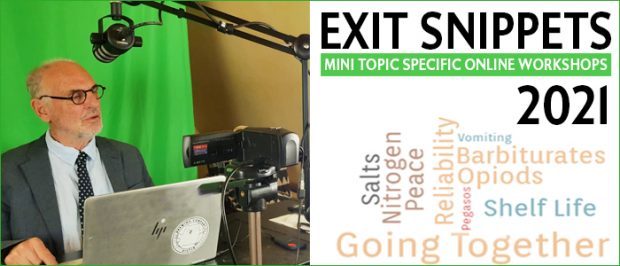 Dying with dignity, assisted suicide, voluntary assisted dying (VAD), MAID & the Law
Do you need a doctor?
Exit's RPA Test (Reliability, Peacefulness, Accessibility) – how to critically analyze different options
Physiology of a Peaceful Death Explained
Lethal Salts – Aussie pig poison & the Dutch experiment
Happy Hypoxia: What is it & why does it matter?
COVID-19 – what sort of death to expect & other dilemmas
Drug Potentiation & the 'Cardiac-Switch'
All about Prescription Drugs: myths, overdoses, prescription drugs, pain drugs
The Barbiturates: sources, scams, testing, storage & legals
US Lethal Mixtures Protocol (as used under MAID legislation in the US)
Poisons: carbon monoxide, cyanide, hydroxychloroquine, detergents – myths, risks, safety & legals
Swiss Service – Pegasos Swiss Association
Recent Developments: Sarco euthanasia machine
Living wills, death certificates, autopsies, wills & mental capacity, family counseling …
Attendance at Exit Workshops & Exit Dying with Dignity Snippets is reserved for those over 50 years & people who are seriously ill, or by special agreement.
Workshops/ Snippets are free for Exit Members. US$22.50 – PPeH subscribers.
Face-2-face Exit Workshops will return post COVID-19.