June 30, 2022
New Essentials Peaceful Pill eHandbook
The New Essentials Peaceful Pill eHandbook was published 30 June 2022 (and has been frequently updated during July, August and September).
This new edition represents a complete re-write & condensation of the best-selling Peaceful Pill eHandbook.
The aim of the re-write was to ensure the New Essentials Peaceful Pill eHandbook is a book that is succinct, up-to-date & provides important DIY end of life strategies in easy to understand, lay language.
The book is a clear, concise DIY practical guide about end of life choices.
The Peaceful Pill eHandbook – Essentials Edition replaces the Peaceful Pill eHandbook.
Note – only the Essentials edition is continuously updated.
Contents
Introduction
Physiology of dying
All about lethal drugs & poisons
Lethal sedative drugs
Lethal cardiac drugs
US 5-Drug Mix
Supplementary drugs
Lethal Inorganic Salts
Inert Gases
Sarco
Poisonous Gases
VSED (voluntary stopping eating & drinking)
Online Safety & Privacy
When it all goes wrong?
VAD – MAiD Laws around the World – how to qualify
Swiss Option
Afterword
Reliability – Peacefulness Table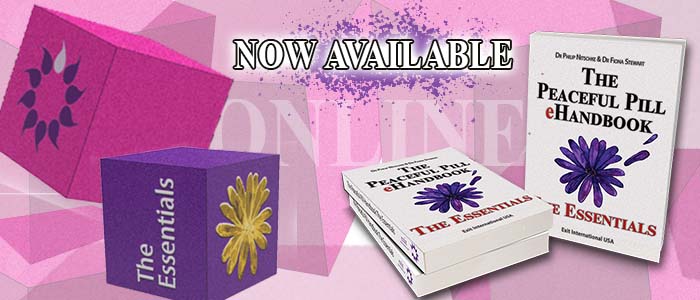 Existing subscribers can have their subscriptions 'transfer' to the Essentials, upon application.
Existing Subscribers – Apply Here for Transfer
The Essentials is also published in print format.
The sales of these books is restricted to those aged over 50 years and/ or who are seriously ill.
Photo ID is required for purchase.
The online edition is available as a 24 month subscription, renewable thereafter at 50% discount.