March 14, 2022
New Peaceful Pill eHandbook – Coming Soon
In recent months, the authors of the Peaceful Pill eHandbook have been hard at work undertaking a complete re-write and condensing of the existing Peaceful Pill eHandbook.
This is the first complete overhaul of the book since it was originally published online in 2008.
The aim of the re-write and condensing is to offer a book that is succinct, up-to-date and makes critical information immediate and simple to locate.
Importantly the Essentials Edition will contain new Chapters on VSED (voluntary stopping of eating and drinking) and a Chapter on right to die laws around the world: who qualifies, drawbacks, benefits, timelines & more.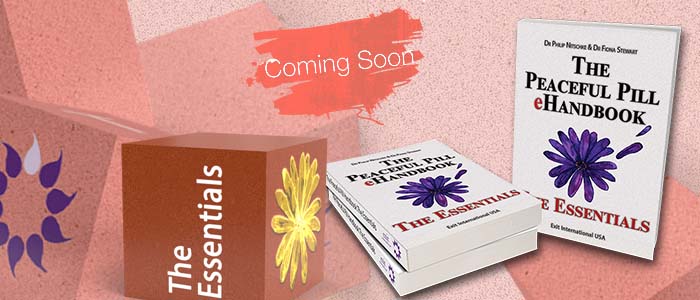 The current online Peaceful Pill eHandbook stands at 554 pages long.
The new book will be < 200 pages but still contain all the relevant, important information that has made the PPeH the global leader in providing practical and reliable end-of-life information.
The new Peaceful Pill eHandbook – The Essentials Edition will be published in both print and online in mid 2022. The Essentials will continue to be updated 10 – 12 times each year.
Existing subscribers will have their subscriptions 'transfer' to the Essentials, while retaining their access to the 554 existing pages of the Peaceful Pill eHandbook (as per their existing subscription).
Watch this space for more announcements in the coming weeks.