April 20, 2021
Peaceful Pill Handbook 2021 Print Edition
The Peaceful Pill Handbook 2021 Print Edition is now available from Amazon stores around the world.
This new edition is based on the March 2021 edition of the online Peaceful Pill eHandbook.
There are 28 chapters covering topics such as drugs, poisons, gases, the Swiss services as well as other things that matter including AHD – advance health directives, the impact of coronavirus on end of life choices, the writing of wills, autopsies, grief counseling and more.
Please note, this edition has been edited to make it age appropriate for a general adult audience.
Purchasers of the Peaceful Pill Handbook 2021 Print Edition are offered a 50% discount on the subscription price of the online edition which is more specific in certain areas of information.
Details of the coupon can be found in the Amazon edition 2021 of the Peaceful Pill Handbook.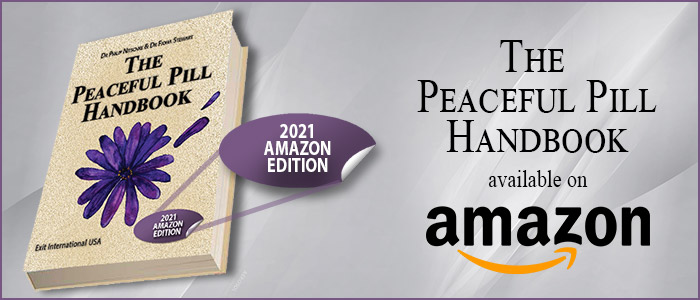 Please note Exit's print books do not include:
Updates
Access to Snippets (online workshops)
Access to the Peaceful Pill Forums