April 28, 2015
Philip Nitschke Interview BBC HARDtalk
Philip Nitschke Interview BBC HARDtalk was first screened in 2015.
Philip is the founder and director of the pro-euthanasia group Exit International.
Philip says he believes the right to die should be recognised as a fundamental human right, rather than as a medical privilege.
"If we're going to acknowledge the right to life, we've got to be able to recognise the right to dispose of that gift. And that's a right to death," he tells HARDtalk's Zeinab Badawi.
In this 2015 interview on BBC Hardtalk with Zeinab Badawi, Philip Nitschke discusses euthanasia and assisted suicide.
According to Wikipedia, HardTalk (styled as HARDtalk) is a BBC television and radio programme broadcast on the BBC News Channel, on BBC World News, and on the BBC World Service. HARDtalk is broadcast Monday to Thursday.
The interview teaser is available on the BBC site.
The full interview is available on Youtube.com
27 April 2015 Last updated at 18:01 BST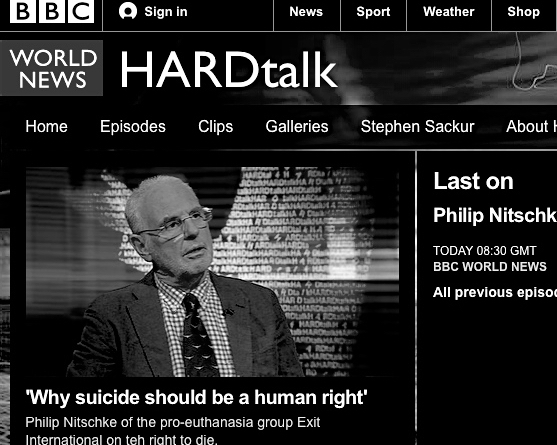 About BBC HARDtalk
HARDtalk is the hard-hitting flagship news programme shown on BBC World News and the BBC News channel.
The half hour interview is the result of detailed research and in-depth investigations.
HARDtalk asks the difficult questions and gets behind the stories that make the news – from international political leaders to entertainers; from corporate decision-makers to ordinary individuals facing huge challenges.
With Zeinab Badawi, the main presenter of HARDtalk is Stephen Sackur.