October 31, 2021
Fudging the Facts in the Azide Wars
This week in Fudging the Facts in the Azide Wars, my old colleague, psychiatrist Boudewijn Chabot wrote a prominent opinion piece in the Dutch newspaper NRC called 'I can't warn enough about Middel X'.
Normally, I would welcome an opinion from a fellow activist, but not this week.
Chabot's column has sought to rewrite a history: a challenging and important political history that is being played out as we speak, here in Amsterdam.
Let me preface this Blog by saying that, in my opinion, Holland has the most mature right to die debate of any country, anywhere.
In contrast to the comments this week by Australian Education Minister Alan Tudge that my country of birth is the 'most free, most tolerant and most egalitarian country in all of human history' (a point of view I beg to differ with – why would Australia then be the only country to ban The Peaceful Pill Handbook?), it is the Netherlands that as a unique ability to take on board and tolerate all manner of points of view on myriad topics.
This tolerance is normally achieved without inviting open warfare in the public domain.
However, in his possible desperation to be relevant to the debate, Boudewijn Chabot has not only fired a salvo over the bow of the group Cooperation Last Will (CLW), he has attempted to sink the organisation outright.
In doing so, he has cut corners, embellished the truth and left the debate and its stakeholders poorer in the process.
Let us examine the facts.
Chabot writes:
Last summer I saw on a video how a couple took the deadly 'drug X' and died. They said nothing to each other, did not touch. I heard them groan on the bed, until after an hour it fell silent. This was lonely dying at its best, just as lonely as hanging yourself, only it took much longer.
Correction: the video I showed Boudewijn during the 2021 European summer was that of an Australian couple taking sodium nitrite (not azide) to die together. Chabot knew this. He also knew that the death took 25 minutes, and not more than one hour.
In watching this recording, Chabot and I saw a death that was peaceful and dignified by an elderly couple who wanted to go together.
What's not to like?
If Chabot is whitewashing the truth on a nitrite death video to suit his own agenda, what else in his column can or should be believed?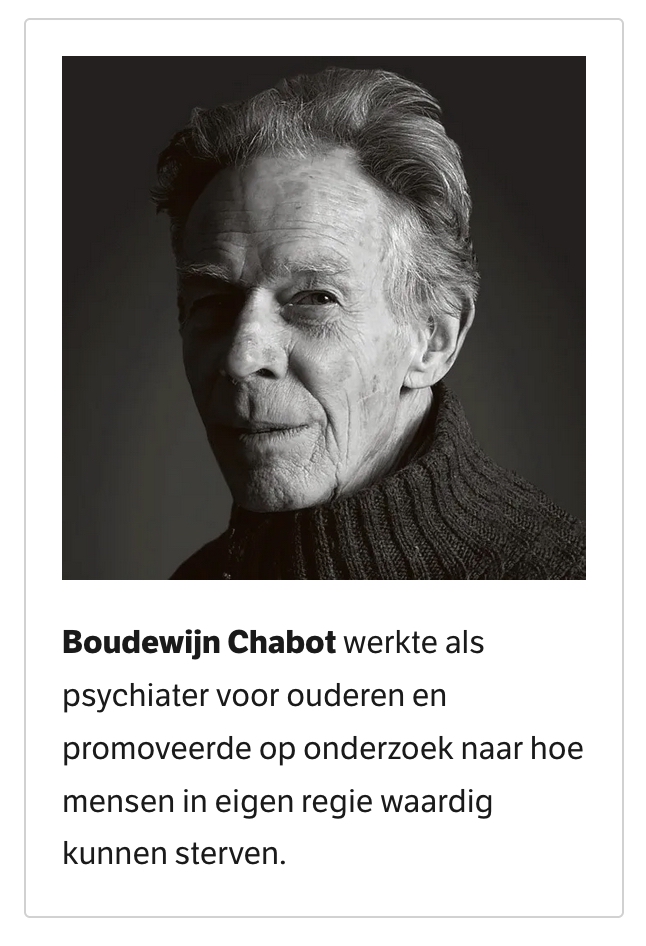 In his column, Chabot attempts to paint CLW as reckless, dishonest and detrimental to the DIY end of life rights movement.
He makes a big note that he has been 'in the game' a lot longer than CLW but this does not give Chabot a monopoly of moving the debate forward or challenging the political establishment.
In The Peaceful Pill eHandbook we state, in summary, about Middel X:
The reliability of a death from ingestion of sodium azide make this salt an effective option. However, questions remain about the time taken to loss of consciousness. The possibility of unpleasant symptoms remains.
The lack of any antidote is seen by many as an important positive factor, especially if there is the prospect of intervention by the emergency services.
Problems associated with its storage, safe disposal, and the risk it poses to others after death may also serve to limit its usefulness.
That said, sodium azide is an important, available substance that provides a lawful, end of life option for those who have no access to the barbiturate, Nembutal.
Sure, CLW may at times have seemed overly enthusiastic about Azide, but for the above reasons they are arguably justified. In the PPeH we rate Azide just below Nitrite and well above that other lethal inorganic salt, Cyanide.
Of course, Middel X is not Nembutal but then CLW never claimed it was.
But it is a reliable, lawful alternative. CLW do not deserve this public vilification for taking an activist approach.
What is it they say? He who does nothing breaks nothing? Listen up Dr Chabot.
Backstory
The Azide Wars first erupted 2 years ago when the journal of the Dutch Medical Association, NTvG, published several articles attacking what was described in the editorial as 'the ideology of suicide'. This the topic of a former Peaceful Pill Blog.
In the lead article 'The Rise and Fall of Agent X', Chabot's then coauthor of his book Uitweg, Stella Braam, named CLW as 'enthusiastic amateurs, blinded by their enthusiasm and pressured by their supporters'.
From the totality of the articles published in this infamous March 2019 edition of NTvG, the medical establishment (with whom Chabot is aligned) was revealed as deeply hostile towards any group advocating the right to have non-medical control over one's death.
So Chabot's personal conclusion that death will not come quickly in 20-30 percent of Azide cases is neither here nor then because it is the agenda behind this opinion that is driving this partial analysis.
If Chabot's data analysis were to be accepted (which it is not), this does not make a joke of the claim that Sodium Azide can provide a peaceful death.
The data on the nature a death from Sodium Azide is relatively young. Yes, there is little hard science at the moment but watch this space because as time goes by there will be.
Any alleged sloppiness in the Sodium Azide data is more down to the need for that data to be gathered clandestinely. Being present at a person's death is still a legal grey area. Utmost caution is required.
That CLW has been able to collate data of the known deaths among their members is something they should be commended for.
But this is not good enough for Boudewijn who, it seems, has assumed the mantel of Azide Expert. 'I cannot warn enough about drug X as a suicide drug'.
As Chabot's opinion piece nears its climax, his arguments sound increasingly hysterical.
There is CLW Chairman Jos Van Wijk who is accused of exploiting the 26,000 odd members of CLW at a time when they are 'in an unstable phase of life'.
Call the elderly membership of CLW many things, but patronise them at your peril!
Van Wijk is also, apparently, guilty of not showing compassion to people who are less strong in life than he is.
While I'm not the first one to say that Jos has a penchant for bluster from time to time (he is an angry Dutch Baby Boomer after all), his approach, in my opinion, has been largely successful.
Unlike NVVE, a group which personifies the Dutch euthanasia establishment, CLW have single-handedly kept the issue of older people's right to self-determination on the Dutch political agenda.
And then there is Chabot's grasping of as many sordid examples of unsuitable deaths as he can, including that of Dutch teenager Ximena Knoll.
Ximena suicided using sodium nitrite around the same time that CLW launched their Middel X campaign. While her premature death is indeed tragic, CLW were hardly to blame.
As with other cases of teenage suicide that have made it into the mainstream media, it is the parents who took to the warpath looking for someone/ something to blame: rather than looking closer to home to determine how such a tragedy could have been prevented.
Chabot concludes his column with what can only be described as an attempt of the high moral ground.
In his book, he writes, 'I was never secretive about the name of lethal substances and I did not withhold any toxicological information. You must be able to base the one-off decision on how to end your life on public and complete data'.
Sorry, did I hear him right?
My good colleague fudges the truth and the single inorganic salt death that he has been able to witness and then tries to argue for disclosure of toxicological information and a need for 'public and complete data'.
The pot has called the kettle black
But Chabot's final cudgel concerns the relatively few deaths that CLW have recorded among their members in the five years since their campaign as proof that the membership of CLW has no confidence in its leadership.
Only 30 deaths from a membership of 26,000+
It is on this point that the greatest disservice is done.
If there is one thing that everyone in the right to die movement can agree on it is that everyone wants choice.
Most of us will never use that choice but we will all draw comfort from knowing that we will have control over when and how our days will end.
This is the argument that underwrites all our efforts at Exit.
Being a member of Exit and reading the Peaceful Pill Handbook can make you live a longer and happier life.
Why?
Because you are back in control and you can get on with living. Rather than worrying about how you might die.
Chabot can and does know better.
He should not go unchallenged in this prominent column in one of the Netherland's most respected broadsheets.
Philip Nitschke
Amsterdam, 31 October 2021