Peaceful Pill Blog
June 13, 2021
Holocaust Survivor Zsuzsi Yardley dies in Switzerland
Exit Life Member – Zsuzsi Yardley – died at Pegasos in Liestal Switzerland on 3 June 2021.
Shortly before her death Zsuzsi wrote:
Dear Friends,
It is more than fifty years ago that I joined a campaigning organisation for the right to make choices at the end of life, called Exit. Organisations change, their names change, my opinions remained, that it is a human right to make such choices while competent to do so.
At present I am a member of Exit International. Such choice has always have to be made with the proviso that no harm should be done to others, where I owe a duty of care, or could give emotional pain.
Once my partner of 34 years, Bill, died five years ago, and then my brother Edgar, there was nobody left close enough to me, whom I would be harming.
In the Autumn of 2019 I decided that my life was good and complete, I had no desire to prolong it and was then actively considering my own end of life choices.
Then I had a stroke, which made things more urgent and at the same time more difficult. It took me some time and a great deal of effort to reach a point where I was again able to act in this matter.
The choices are various do it yourself methods, which may, or may not result in achieving a reliable and peaceful death, or a trip to Switzerland for the same.
It seemed to me the better option to avoid putting friends and/or relations to the trouble to cope with the aftermath and so I applied in January of this year to travel to Switzerland.
It was far from easy to get accepted and to gather the necessary documentation, especially under COVID restrictions.
The time has come to let you know and to send this message with my thanks for your friendship and company over the years.
I wish you all the best for the future,
 
Lots of love,
 
Zsuzsi
Zsuzsi's many friends replied in kind:
I know you asked for no replies, but you also clearly realised we might have to write for our own needs.
Thank you for telling us what you are doing and why. You are probably one of the most sincere and honest people I have known, so I wish you had reached a different conclusion from your analysis, but I have no doubt at all that you have reached a decision that you believe in and are at peace with.
You leave a huge hole in our lives. You probably underestimate how much we have valued knowing you.
I wholly support your decision but grieve for my loss.
And
I find it hard to reply to your email. I greatly respect your choice to make your own decision how and when to end your life. It is a choice that I agree with, but I know I do not have the courage to make it.
At the same time I feel very sad to be saying good-bye to you. I have so much enjoyed being in the reading group with you and have often wished I could have known you when we were both younger and pursuing our very different careers.
All I feel I can say now is that I hope all goes very easily for you, and I shall always have very fond memories of you.
And this is one of the benefits of being able to plan your time to leave, especially in the absence of serious illness. Everyone has the time to say good-bye. It may be easier to leave without regrets, even if not everyone will understand why you are leaving early.
Zsuzsi's main reason behind her timing was that she had experienced a stroke and was afraid of another.
As a former Systems Control Engineer (in the oil, water and transportation industries – Zsuzsi supervised sections of the build of the channel tunnel), she was an extremely well-organised woman who analysed the pros and cons of life's decisions.
As a survivor of the Holocaust, she said it was especially important that she was able to choose her end manner and date. This was the ultimate decision that was hers alone to make.
Zsuzsi spent her final days in Basel drinking prosecco, resting and wandering the neighbourhood close to her hotel.
When the opportunity arose to go a day earlier than planned, she jumped at the opportunity.
After a hearty final breakfast, Philip Nitschke drove with her to Liestal and was there with her until the very end.
Her death was, as all Nembutal deaths are, the most dignified and peaceful imaginable.
Zsuzsi has bequeathed film up to the last minutes of her life to Exit to use as they see fit.
This film will be included in next week's Swiss Options update to the Peaceful Pill eHandbook.
Zsuzsi's death does leave a hole in our lives, as remarkable seems a somewhat insufficient description of this person.
Her calmness prior to her death can only be taken as an indication of how absolutely sure she was that she was ready to go.
Just before she turned the infamous white wheel she remarked to a tearful Philip Nitschke that he should not be sad for her, that there was no place she would rather be.
If ever evidence were needed of the 'good' that can come as a result of a planned dignified death, then Zsuzsi Yardley is it.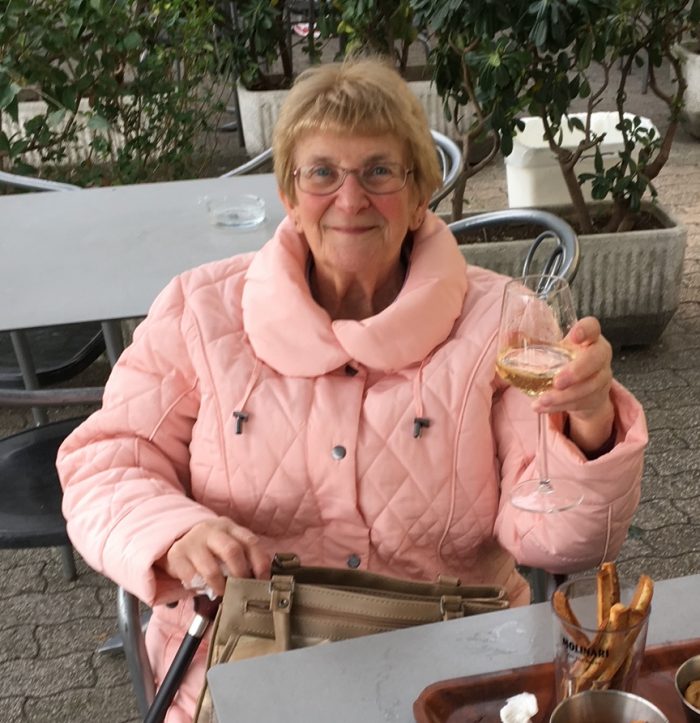 Zsuzsi Yardley, 9 January 1940 – 3 June 2021
Zsuzsi described herself when younger as: a swimmer, skier, rambler ice dancer, general physical activity.
Prior to the covid lockdowns as a: theatre, concert and exhibition exhibition goer.
Prior to her stroke last year as: a gardener.
Since then she said she still exercised with videos and walking daily. 'I am still driving' she said.
How to summarise a life? Nigh on impossible.