Peaceful Pill Blog
July 9, 2023
A Tale of 2 Cases of the Salts
This week in the Netherlands, the Dutch Prosecutor is arguing that the infamous 'Alex from Eindhoven' should receive a four-year prison sentence for supplying the end of life drug Middel X (sodium azide).
The State alleges that at least 10 people have died after taking the substance supplied by Alex.
The trial is currently taking place in the Court in Den Bosch.
This is the first criminal case on Middel X.
It is argued that over a period of almost three years, Alex supplied lethal drugs by mail to anyone who requested them.
Middel X (sodium azide) is not prohibited in the Netherlands (or is most other countries) because it has other uses. However, it is no longer on sale to individuals. One needs a registered company and company number to purchase Azide in the Netherlands.
In a second charge, it is alleged that Alex also provided anti-vomiting medication: something which is illegal to provide as it is only available on a doctor's prescription.
The Court has heard that the actual number of people who used Middel X to die is unknown. One thing that is certain is that the figure is expected to rise sharply in the future as it is alleged that Alex sent the drug to at least 1600 people.
While police have traced the deaths of 30 people who transferred money to Alex when they were alive, a further 14 people are known to have died after taking Middel X.
Extra Charge
The Prosecutor is urging the Court should to make an example of Alex, by making it clear that assisted suicide outside of euthanasia law 'cannot remain unpunished, even if it is done with the best intentions'.
In his defence, Alex is claiming that he has autism: a disorder that diminishes his criminal culpability.
The Court has also heard that Middel X is by no means a guarantee of a peaceful death.
It is argued that Alex 'knew the drug could be used by young and vulnerable people, but just went ahead [anyway]'.
At no time did Alex investigate the personal situation of people who ordered the drug.
Rather, Alex is alleged to have relied on others such as the Last Will Cooperative (CLW) to vet people ahead of time.
Alex has always maintained that he was trying to give people the option of a DIY human death.
The Prosecution is arguing that since Alex earned tens of thousands of euros, he is also guilty of money laundering.
The Prosecution expects to prosecute ten more people for the supply of Middel X.
Dueling Prosecutions?
At the same time that the Dutch State is prosecuting Alex from Eindhoven for the supply and distribution of Middel X – the charge is assisting a suicide – so the Canadian authorities are preparing to prosecute Ken Law for the same offence, but with sodium nitrite.
The similarities between the cases is remarkable.
In both these prosecutions, the State is arguing that neither salt provides a peaceful death.
This allegation borders on misinformation since Exit has first-hand video of footage of peaceful and reliable deaths, which is why these substances rate 80% (nitrite) and 78% (azide) on the Reliability Peacefulness Table in the Peaceful Pill eHandbook Essentials.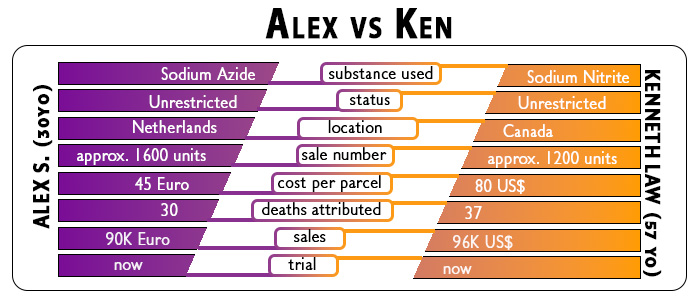 June 18, 2023
A Tale of Terror & a Warning?
Exit Member, Louise Martin, tells of the indignity she suffered at the hands of her local police  …
About ten years ago, my local Unitarians were one of the first groups to join UK-wide Unitarian support for an Early Day Motion which promoted Assisted Dying.
The discussion between chapel society members prompted me to start exploring the situation more fully, and has led to my membership of Exit International, and a keen interest in the whole topic ever since.
Dignitas, in Switzerland, has a very mixed reputation both in fact and fiction.
For many it is the only possibility when living becomes too painful in every respect.
There have been several efforts to get the law changed, mostly on lines similar to the legal situation in Origin State in America.
There, doctors can leave patients, who have a limited life expectancy, with drugs that will result in death.  Barely 30% of those with this 'insurance' use the medication provided for this purpose.
The Hippocratic Oath in the modern version states there is a responsibility on doctors to 'avoid the twin traps of over treatment and therapeutic nihilism…. Above all, I must not play at God'.
This leaves me wondering if good intentions result in a medical practitioner feeling compelled to continue to seek a cure.  Surely quality is always better than quantity?
My father was an old-fashioned GP working in the middle of the 20th century.  He believed everyone should have the right 'to die on their own lace pillow'.
His youngest partner saw to it that this was my mother's death.  But things change.  Death at home is no longer the norm.
It is as if we have made death something to be denied and hidden away on side wards of hospitals and hospices.
The cost to the NHS of the average last six weeks of a life is now more than the cost of all the previous years' of life put together.   This can't be right.
After researching Exit's Peaceful Pill Handbook, I chose a supplier of Nembutal, the drug of choice, and ordered some, paying by Western Union.
Some months later a parcel arrived from Mexico, handed to me by our regular postie.  Inside was a small bottle which I put in a plastic mug in the fridge.
Several months later, a day or two after returning from a visit to my family 'down under', I was arrested for 'possession of illegal drugs'.  The experience was horrific.
At one stage there were seven police officers in my house, two searching for more drugs, which was stupid as I had already given the little bottle to the arresting policewoman.
I was put into a van behind a cage and driven to a nearby town.  The custody sergeant announced he would treat me like any other drug smuggler.
He proceeded to take my details, lock me up in a cell, having removed my mobile but leaving me my watch and giving me an old magazine to read.
I gave him the number of the good friend with whom I had been having lunch that day, because I thought she would be able to cope with whatever happened next.
When he rang her, introduced himself, explaining I had been arrested, her astonishment caused her to ask, 'Is this a joke?'.   'No, madam, certainly not' was the reply.
She and her husband could not believe what they had heard and reckoned I must have hit someone driving home that afternoon.
I was interviewed by a plain clothes woman officer who said the information that I had this drug came via Interpol.  The Mexican seller had obviously been arrested.
I was later interviewed by someone working, who offered me professional support.  She was being funded through a mental health charity to try to help drug users.
Eventually, after about four hours I was released on bail, allowed to call a taxi and be driven home.
Two days later I was with an experienced solicitor, entirely sympathetic to the cause of Exit, who took me through the whole event, prepared a defence against my being taken to court and charged me quite a lot of money.
The police withdrew the case a week before the hearing, perhaps realising they had over-re-acted.  They promised to destroy all their notes.  I am not sure if I believe them.
Meanwhile, the law has tightened on other products that formerly could be taken to induce death and are now no longer available.
Better training for doctors might help many of us live our dying more happily.  Medics, who do not undertake a palliative care placement, spend barely twelve hours of their five-year training looking at care around death, yet every one of their patients will die sooner or later.
Fifteen years ago, I was given a diagnosis with a life expectancy of about six years.  It was said very abruptly without much sensitivity.
As it has turned out, it was wrong.  As it also evolved, I am lucky in my sources of support, to whom I owe much gratitude as I faced this news.
Years ago, visiting a friend in her nineties she said, 'I have been to this party before and I'm ready to leave.'
With luck, I shall go while I am still enjoying some quality of life, independence and able to do the things I want to do.   Good/God willing.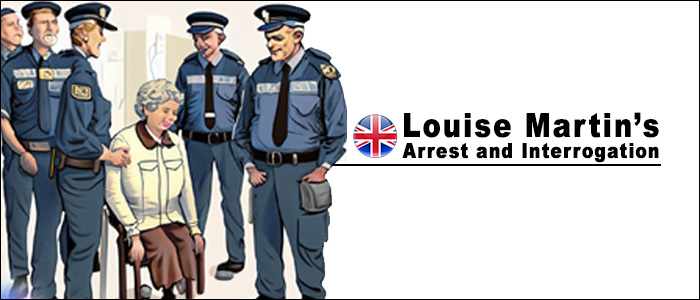 May 4, 2023
Exit Does Not Support 'Sanctioned Suicide' Site
This Blog Entry is a FACT CHECK to ensure discussion is based on the truth and not what some would like to believe is the truth.
There are no alternative facts in this regard.
To make it clear, Exit International has NO relationship to the Sanctioned Suicide online forums (despite what some may allege).
Exit does not and never has supported these forums.
Indeed, Exit has reported these forums over the years – when possible to hosting companies – for breach of copyright.
Sanctioned Suicide are well versed in playing cat and mouse in ensuring their site remains live.
Exit has also, in the past, written to the media (eg.BBC) to encourage them to focus on Sanctioned Suicide and use the power of the media to have them taken down, permanently. We have issued more take-down notices that we can count.
Exit continues to work hard to ensure that anyone who is in the Sanctioned Suicide forums does not also have access to the Peaceful Pill eHandbook, even if they are over 50 years.
This is why our high-security, photo ID video authentication and the mandate that one must be over the age of 50 years was instigated prior to the sale of every Peaceful Pill eHandbook.
In terms of copyright, Exit is always aggrieved when the copyright of the authors of the Peaceful Pill eHandbook is breached on any site or any public forum. This is theft.
Exit is especially annoyed when past editions of the book have found their way to the Sanctioned Suicide forums given that its members include young people.
Exit watches the Sanctioned Suicide forums daily.
Exit removes rights of access to the Peaceful Pill eHandbook as soon as we become aware that a person may be posting information from the book. Indeed, posting or sharing the contents of the eHandbook with a third party – online or offline – is a breach of our terms of sale and justification for a life ban on re-subscribing.
In regard to Canadian Kenneth Law, Exit has no association or acquaintance with him. Law is not and never has been a subscriber to the Peaceful Pill eHandbook.
It is a travesty that young people are being needlessly caught up in older people's legitimate and rightful access to end of life information.
Exit stands by our belief that older people (over 50 years) and those who are seriously ill have a basic right to the best end of life information.
A peaceful death is every (elderly and seriously ill) person's right!
See the Exit International website for more on Exit's Philosophy
April 30, 2023
Overcoming Impediments to MAiD Another approach?
Overcoming impediments to medically assisted dying: A signal for another approach?
This Blog was originally published in the British Medical Journal of Medical Ethics on 6 April 2023.
By Juergen Dankwort (Chapter Coordinator – Canada, Exit International)
The proposal to provide assistance with voluntary assisted dying (VAD) has grown significantly over the past two decades at an accelerating rate.
Right-to-die movement societies and organizations now number over 80 from around the world, 58 of which are members of the World Federation of Right to Die Societies.
However, most are also increasingly beset with formidable challenges opposing their advances that raise profound ethical, moral and legal considerations.
The prevalent approach towards VAD
A review of these assisted dying regimes show how they were set up through legislative acts often resulting from initial court challenges to an existing assisted dying prohibition within that country's criminal code.
They reveal a common paradigmatic model whereby the criminal act remained intact with amendments added establishing a legislated framework to allow a service under specifically designated conditions and exempting the providers from punishment.
Generally, the legal criterion for accessing such a medically-centred service requires a person to be suffering intolerably from an existing, irremediable condition defined within legislated parameters, establishing who may access them, best practices, where and when they can be done, and who may perform them.
While not alone, Canada's often-vaunted medically assisted dying regime (also known as MAID), implemented in 2016, is exemplary of this development with attendant massive challenges facing it.
Its formulation illustrates an attempt to balance a previously court-declared constitutional right to life, liberty and security of the person with a perceived societal harm resulting from a state-sanctioned service to assisted dying.
Such legislated regimes have since been challenged legally numerous times by persons refused access, while featuring alarming stories in the media when access was sought and granted.
A backlash to VAD has gained recent traction.
Traditional assisted dying opponents, including the orthodox religious, some disability groups, and conservative politicians who often troll to their populist base, are joined by additional academics and some physicians, providing more legitimacy with compelling arguments at stopping any wider access to a state-initiated and financially-covered national health service.
Germany breaks tradition
In a remarkable judgment by the German Federal Constitutional Court in February 2020, regarding assisted suicide, a ground-breaking option for any country or jurisdiction contemplating the creation of an assisted dying regime was identified that may well avoid much of the controversy and many of the challenges faced by existing ones.
It does so by revealing a pathway to set up the service based on an entirely different orientation and approach from the existing one that began decades earlier in Europe, and later largely copied by others.
The German Court's ruling stated for the first time that matters of quality of life and degrees of suffering are wholly subjective and that governments should therefore not prescribe nor proscribe assisted dying access based on categories of populations defined by such individually-experienced life-determinants because such restrictions would violate entrenched principles regarding personal autonomy and the liberal foundation separating state and personhood in pluralist societies.
A VAD regime built on this premise could then also avoid all expressed objection to assisted suicide, no longer based on those normative criteria.
A recent study out of Europe contrasting two ways of how assisted dying services function, detail the actual process deciding for whom and when the service may be administered and who can perform it. The legislated regime of Belgium – a model used for Canada's – was compared with the process in Switzerland.
Importantly, no legislated system was erected in Switzerland that specifies through amendments or exceptions how, when, by, and for whom it may be done.
It has remained unlawful for decades with the simple caveat if it is done to exploit another vulnerable person. Several salient differences were observed by the researchers that also reveal the challenges presently facing existing VAD regimes.
The Swiss model featured:
less hierarchical structure in decision-making
less institutionalized through legislation
less subject to resulting cultural and political opposition
unencumbered by delays to service based on lengthy court decisions regarding eligibility, best practice, who was authorized to perform the service
more pliant as the normative decisions for service provision and administration could be determined by those immediately implicated on a case-by-case basis in line with changing health determinants.
While claims that Canada has become the wild west for assisted dying with catastrophic consequences is arguably exaggerated given its stringent access requirements, it is nevertheless exemplary of a heightened political drama resulting from the path it took historically that set it on its stormy course.
That begs the question if the many countries and jurisdictions now considering a VAD gateway might not consider taking a different route illustrated by the current Swiss way, recently given a legal foundation by its European neighbour.
Though convincing evidence is still lacking on how expanding assisted dying allegedly leads to a slippery slope of harming the most vulnerable, as reported by some right-to-die societies and as shown in studies, opposition and barriers to it will likely invite more impulsive, desperate suicides that may traumatize and endanger friends, family, and first responders.
Author:  Juergen Dankwort
Affiliations: Associate, University of West Virginia Research Center on Violence
Competing interests: Member, Right to Die Society of Canada; Supporter, World Federation of Right to Die Societies; Coordinator, Canada chapter, Exit International.
Declaration
The author was not paid by any organization, group, government or individual in conducting research for and writing this article.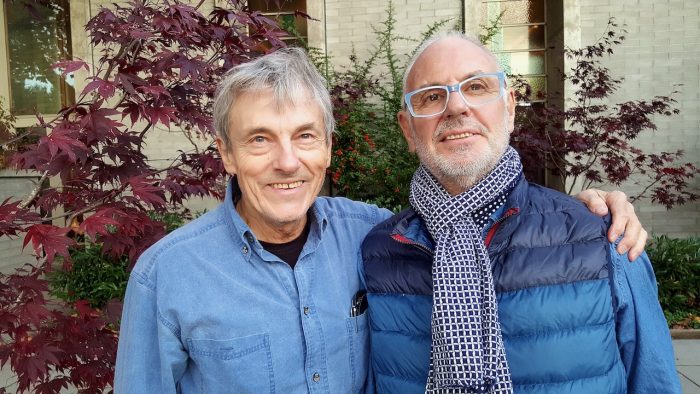 Drs Juergen Dankwort & Philip Nitschke, Vancouver BC Canada, 2017